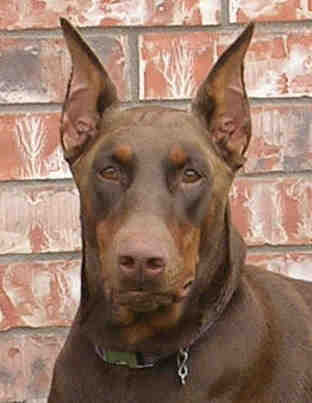 Garretts' Dobermans .com
Welcome to Garretts' Doberman Puppy Site!

Maggie


Maggie's 3rd Litter
Kimbertals Maggie Von Ammons -
"Maggie"

Color: Red and Rust, Brown eyes

AKC Registered: #WS03179506

Date of Birth: March 20, 2003

Weight: 75 pounds

* Excellent markings, almond-shaped eyes

* Excellent disposition

* No white Doberman's in bloodline.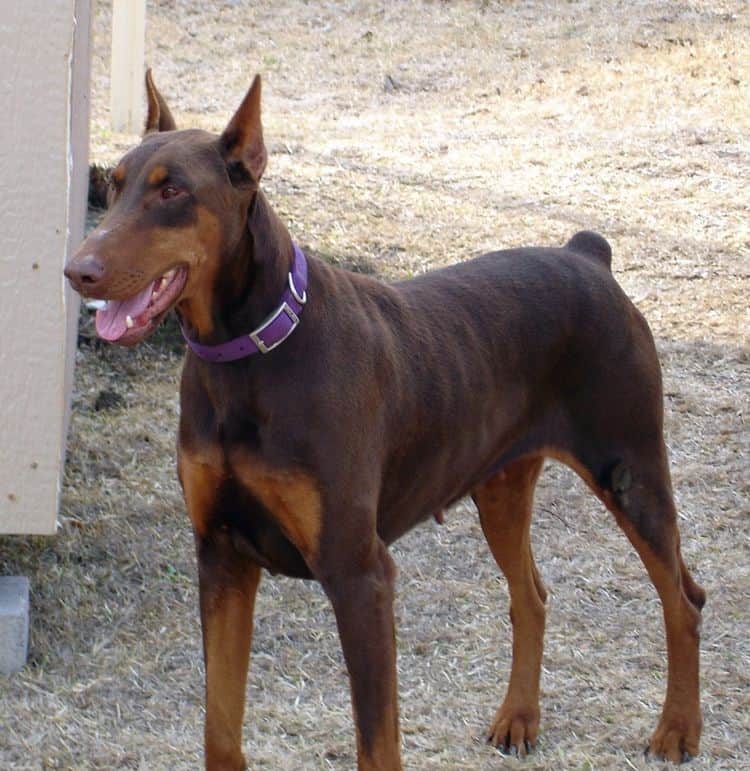 Puppy care info from Maggie's owner, Karah Weaver:
How the pup's are raised:

"From the time the pups are born, we spend lot of time with them. I stay with Maggie while she is having the pups so that she knows I am there. Maggie is 2 years old, but we have only had her for 11 months. That being the case, I do not let my son in the room while she is having the pups. I do not want the added stress of a 2 year old on her while she is in labor. However, after she is done having the puppies, my son is right there with me .. all the time with Maggie and the puppies.

Maggie adores my son and has no problem with him holding and loving the puppies. We do not let anyone other than myself, my husband, and my son handle the puppies for the first couple of weeks. We do not want outside germs getting to the pups.

Each pup is looked after very closely to make sure they are not underneath mom, not tangled up in the bedding, and that each one is getting plenty of milk.

The first 3 to 4 weeks, Maggie and the pups are kept in our spare bedroom. We have a plastic swimming pool lined with comforters for mom and babies to rest comfortably in. Since the pool has sides, mom is able to rest easier knowing her pups cannot crawl too far from her. Of course, they soon outgrow the pool and we set up larger accomadations for them. When they start walking around, they need more space!

At about 3-1/2 to 4 weeks old, we take the pups outside and introduce them to the green stuff .. if they weather cooperates. Mom is usually starting to wean the pups at this time, so we introduce them to soft food at this point.

At 7 to 8 weeks, if the pups are eating dry food well and not needing mom as much, we let them go to their new homes. We hate to see them go but it helps to know that they are going to good homes."
_______________________

Champions in Bloodline:
_______________________

Name: Ch. Pell's Electric Windjammer



---
View Maggie's Pedigree
---
Find a New Home for Your Dobe
Doberman Rescue Organization
All Content Copyright © 2000-2014 GarrettsDobermans.com.
All rights reserved.