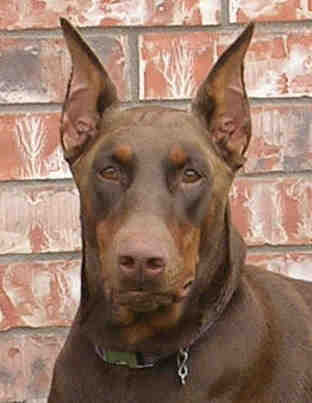 Garretts' Dobermans .com
Welcome to Garretts' Doberman Puppy Site!

Hannah
---
Third Litter Links:
[3rd litter's home page]
First Day
Tail Dock
Food Intro
1st Grass Play
1st Week
2nd Week
3rd Week
4th Week
5th Week
6th Week
7th Week
8th Week
10th Week
Development Diary
Sire of this Litter
---
March 18, 2004 -
"Hi Laura! Sorry we haven't had a chance to write! Thanks for the birthday card, and a Big Thanks for the Great Dobie! We named her Hannah but we call her "Hannah Banana!" Here is a picture of her at 9 mos. and approximately 80 pounds - But she weighs 101 pounds right now on her first birthday, And is our big baby!"

"We have had so many people compliment us on what a great disposition she has. She plays with our kids and their friends wonderfully. She gets along great with our two year old schnauzer and our fourteen year old cat. She is the best Dobie ever. She even thinks she's the neighborhood protector! We will send more pictures soon, and we're sorry we haven't written sooner!"

Hope to talk to you soon,
Rob & Kelly England

---
May 10, 2003 -
This pup flew home to the England's today. Kelly called me after they got home from the airport. She reported that everything went wonderfully and that the pup did not appear to be nervous or scared. Kelly also expressed how beautiful she is and that she bonded almost immediately with Rob, her husband.
---

Picture taken at 7 weeks


---
Picture taken at 6 weeks
---
April 28, 2003 - Picked by Rob England and family from Ohio.
---
Picture at 5 weeks
---
Picture at 4 Weeks
---
Find a New Home for Your Dobe
Doberman Rescue Organizations

All Content Copyright © 2000-2014 GarrettsDobermans.com.
All rights reserved.