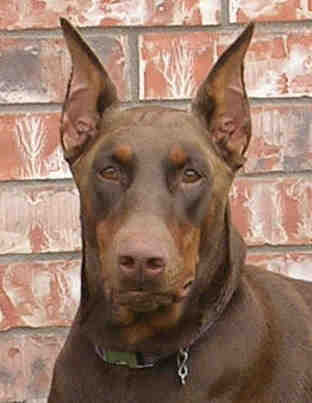 Garretts' Dobermans .com
Welcome to Garretts' Doberman Puppy Site!

Aggie's 1st Litter's Home Page
---
First Litter Links - Born January 3, 2000:
First Day
Tail Dock
Food Intro
1st Week
2nd Week
4th Week
5th Week
7th Week
8th Week
Development Diary
Sire of this Litter
Mother of Litter
---
The following links are for each individual puppy. As owners send in pictures or share fun information, this is where we post it. To view the page, just click on the underlined name.
---

1st Puppy Sold: Titan
[Located in Dallas, Texas area]
-- Black Male --

2nd Puppy Sold: Natasha
[Located in Prosper, Texas with Leslie and Sam]
-- Black Female, Ears cropped --

3rd Puppy Sold: Arion (140+ lbs!)
[Located in San Antonio, Texas area with Gerald & Nicole]
-- Black Male, Ears not cropped --

4th Puppy Sold: Never told us!
[Located in Wichita, Kansas with Shawn]
-- Black Female --

5th Puppy Sold: Ty, CGC, WAE
[Located in Arlinton, Texas with Tina]
-- Black Male, Ears cropped --











---
Find a New Home for Your Dobe
Doberman Rescue Organizations
All Content Copyright © 2000-2010 GarrettsDobermans.com.
All rights reserved.