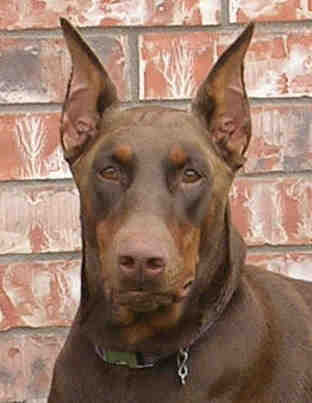 Garretts' Dobermans .com
Welcome to Garretts' Doberman Puppy Site!

American Kennel Club (AKC)
Direct link to The American Kennel Club
Registration

The American Kennel Club (AKC), a not-for-profit organization established in 1884, maintains a purebred dog registry, sanctions dog events, and promotes responsible dog ownership. AKC registration means a dog, its parents, and its ancestors are purebred, but it does not indicate health or quality. Dogs with full AKC registration can have their offspring registered, and dogs with full or limited registration can compete in AKC events and use AKC's full line of education and information services.

Papers and Identification

When you buy a dog represented as AKC registrable, you should receive an AKC dog Registration Application form properly filled out by the seller. When completed by and submitted to the AKC with the proper fee, this form will enable you to register the dog. When the application has been processed, you will receive an AKC Registration Certificate.

Under AKC Rules, any person who sells dogs represented as AKC registerable, must maintain records that make it possible to give full identifying information with every dog delivered even though AKC "papers" are not yet available. Do not accept a promise of later identification.

The Rules and Regulations of the American Kennel Club stipulate that whenever someone sells or delivers a dog registrable with AKC, the dog must be identified either by putting into the hands of the buyer a properly completed AKC Registration Application or by giving the buyer a bill of sale or written statement, signed by the seller, giving the dog's full breeding information as:

* Breed, Sex and color of the dog
* Date of birth of the dog
* Registered names of the dog's sire and dam (with numbers if possible)
* Name of the breeder

If you are buying a dog that is supposed to be registrable with the AKC you should realize it is your responsibility to obtain complete identification of the dog or YOU SHOULD NOT BUY THE DOG. Failure to get AKC "registration papers" causes more grief for buyers of pure-bred registrable dogs than any other problem except sickness. It has long been common practice to explain the inability saying "AKC hasn't sent the papers yet." The essence of this and similar excuses is that because the American Kennel Club is at fault, papers are not available. The fact is that the processing of any AKC registration item takes approximately three weeks. If a breeder is doing his paperwork in a regular, careful manner, there is ample time to obtain the necessary "papers" from AKC prior to sale of any puppy. When "papers" are not available at the time of delivery, it is a red-flag warning sign to exercise extreme caution.

AKC Registered and Quality

There is a widely held belief that "AKC" or "AKC papers" and quality are one and the same. This is not the case. AKC is a registry body. A registration certificate identifies the dog as the offspring of a known sire and dam, born on a known date. It in no way indicates the quality or state of health of the dog. Quality in the sense of "show quality" is determined by many factors including the dog's health, physical condition, ability to move and appearance. Breeders breeding show stock are trying to produce animals that closely resemble the description of perfection described in the breed standard. Many people breed their dogs with no concern for the qualitative demands of the breed standard. When this occurs repeatedly over several generations, the animals, while still pure-bred, can be of extremely low quality.

How AKC Registration Functions

The American Kennel Club registration system can be described as a cycle, which is repeated every generation. A convenient starting point is the registration of a LITTER. In order for a litter to be eligible for registration, the sire (Father/stud dog) and the dam (Mother/bitch) must be individually AKC registered and the litter must be whelped in the United States. Registration of the litter must be completed before any of the pups from the litter can be individually registered with AKC. Application to register a litter must be submitted on a litter registration application form. This form as well as others mentioned here is available upon request. The owners of the sire and dam should complete and sign the appropriate portions of the application and submit it to AKC with the required fee.

Note: The above information is copied directly from the AKC Web site. For more information, please go to the following Web address: http://www.akc.org/
This book contains chapters that take the
new or experienced dog owner through the
most fundamental and necessary information
on raising, training and caring for a pure
bred dog (including common signs of illness
and emergency). It includes a primer on how
to enter pure bred dogs into competitions
and shows and  has helpful sidebars, full-
color photographs, plus 20 comic strips to
illuminate text.
---
Find a New Home for Your Dobe
Doberman Rescue Organizations
All Content Copyright © 2000-2009 GarrettsDobermans.com.
All rights reserved.