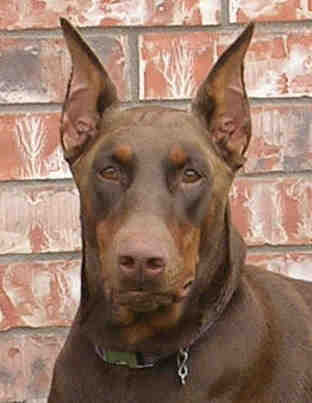 Garretts' Dobermans .com
Welcome to Garretts' Doberman Puppy Site!

Peppy's 2nd Litter's Home Page



There were 9 pups in this litter, Born October 12, 2008. [SOLD OUT]
Below are links to the individual puppy pages and their happy owners:

Gracie (Red/rust Female) -- Kelley from Houston, TX (**Lots of Pics!)
Scout (Red Female) -- Emily, Nick, & sons from Memphis, TN
Frodo (Red/rust Male) -- The Busters in Forney, TX
Gunner (Red Male) -- Cassie, Wes, & son from Amarillo, TX
Rocky (Red/rust Male) --- Michelle & family from Austin, TX

Links for the following pending:
1 Black/rust Male --- Gary, Kelly, & family from Beaumont, TX
Max (Black/rust Male) -- Cristy & family from Azle, TX
1 Black/rust Male -- George from Shreveport, LA
Blaze (Black/rust Male) -- Ryan & Tara from Marietta, PA































---
Find a New Home for Your Dobe
Doberman Rescue Organizations
All Content Copyright © 2000-2010 GarrettsDobermans.com.
All rights reserved.