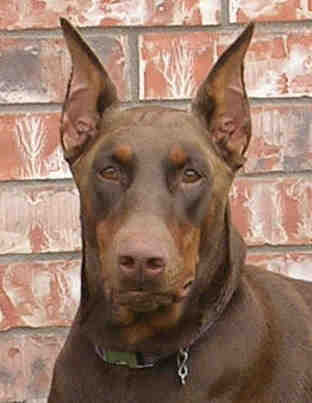 Garretts' Dobermans .com
Welcome to Garretts' Doberman Puppy Site!

Scarlett's 1st Litter's 1st Week
---
First Litter Links - Born October 2, 2005:
1st Litter's Home Page
First Day
Tail Dock
Food Intro
1st Grass Play
1st Week
2nd Week
3rd Week
4th Week
5th Week
6th Week
7th Week
8th Week
Development Diary
Sire of this Litter
---
The pups have gotten noticably stronger this first week of their life. At the end of the first week, they are able to push and pull themselves around kind of like a military crawl. Each one has a great appetite and keeps mom quite busy!

In the pictures below, I tried to capture what happens during each day for them - mostly sleeping and eating but also being loved by our kids and some time in the laundry basket. Everytime they are put in the basket, they immediately cuddle, settle, and go to sleep. That gives mom a break and allows me to get their area nice and tidy.

The last seven pictures show the pups grouped by color and sex - 1 red male, 2 black females, 3 red females and 4 black males.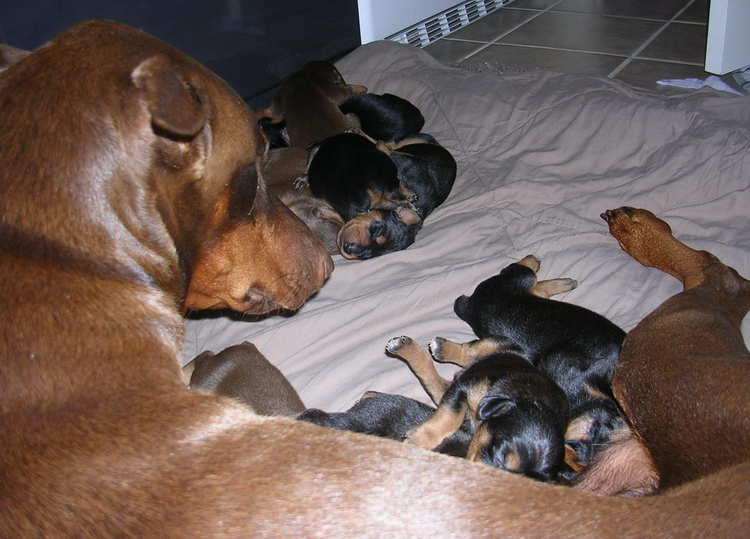 The pups usually eat in shifts - with 10 pups, it is hard for all to find a spicket at the same time! (Yes, she does have one for each but they are rarely occupied at once.)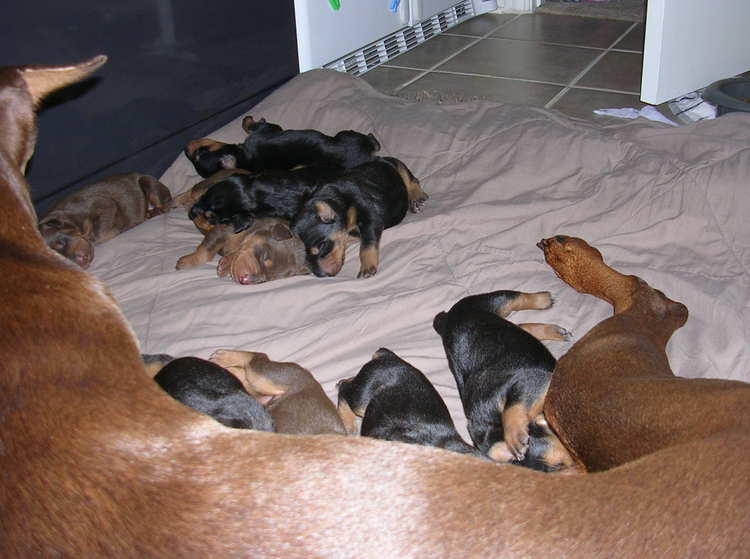 ---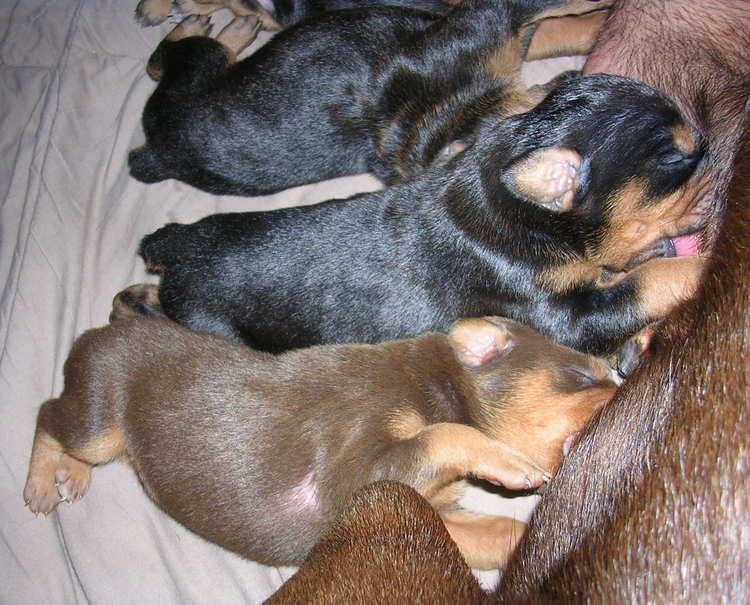 Mealtime - this is what us pups do best!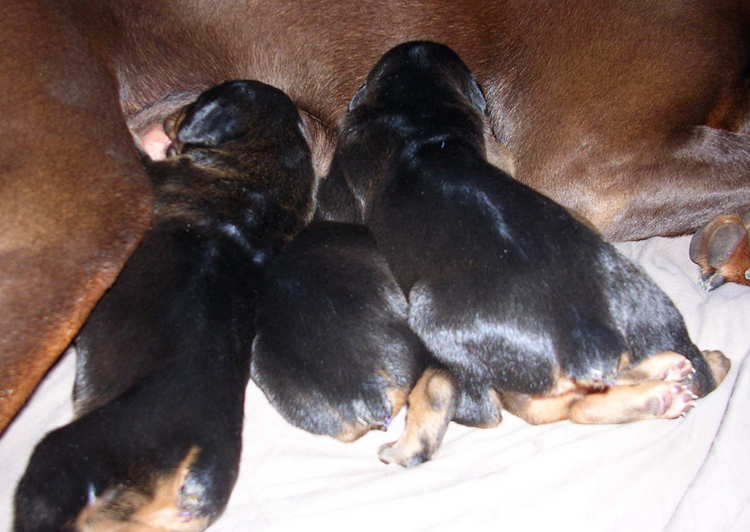 In the picture below, notice how strong our bodies are getting.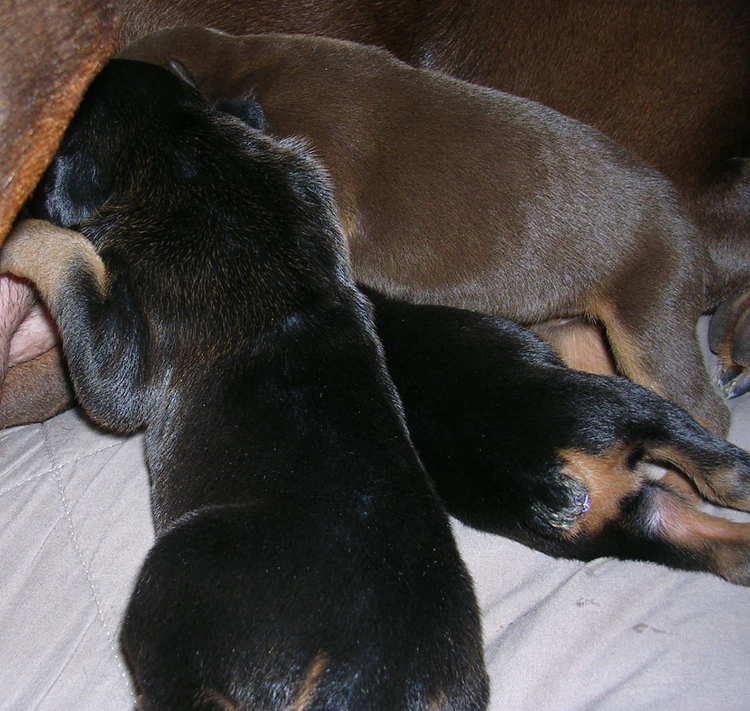 ---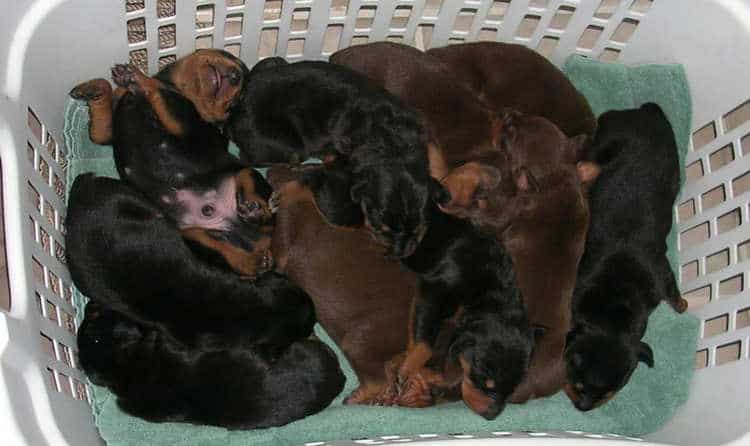 The laundry basket - it is almost spooky, not once have I placed the pups in this basket and they not immediately settled and fallen asleep!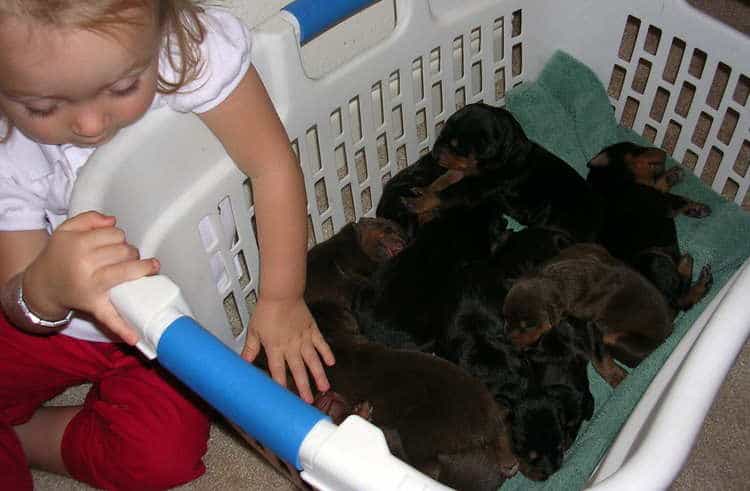 ---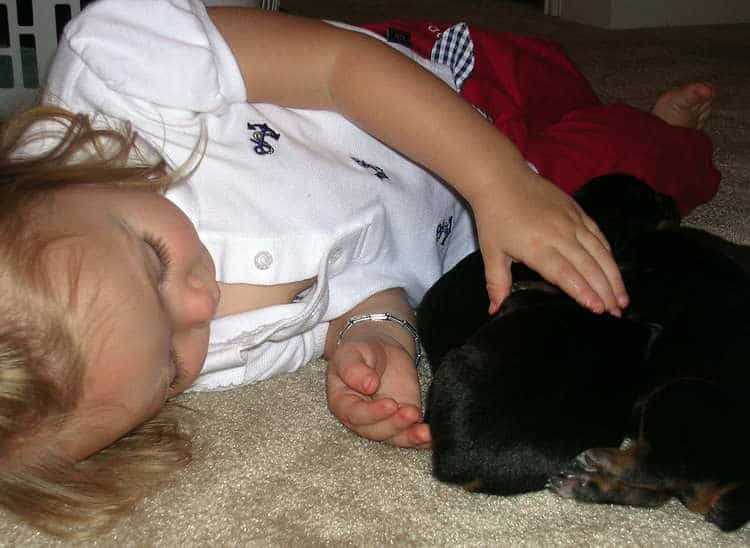 Our children are always wanting to love on the pups. Pictured here are the pups with our 20 month old daughter. If the pups make a peep, one of the kids is there checking to make sure everything is okay!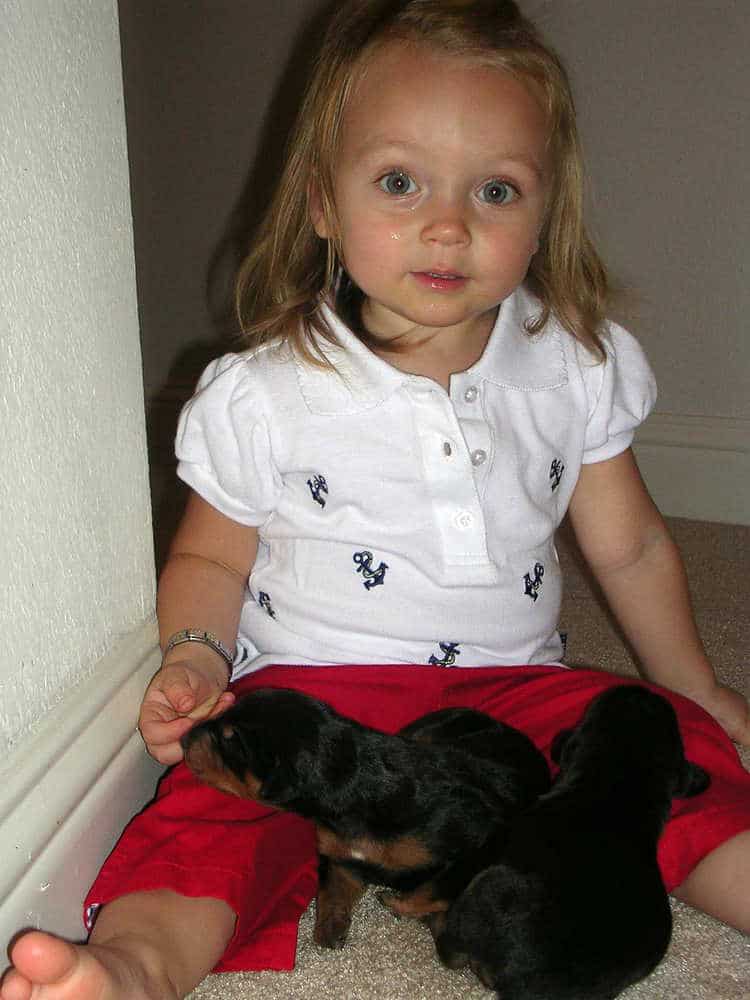 ---
The lone red male: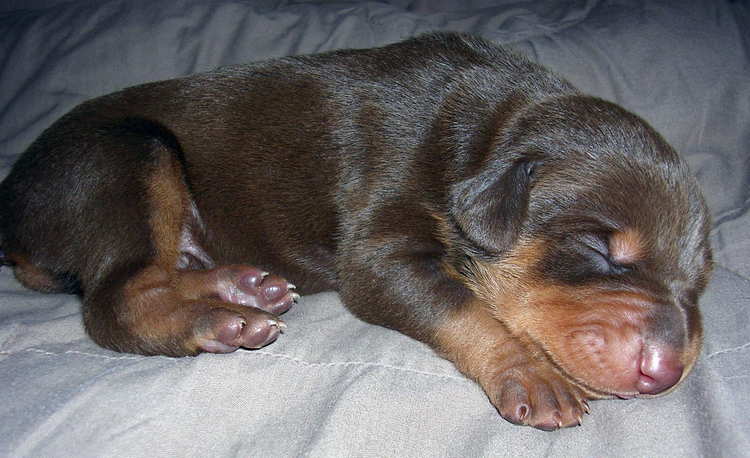 ---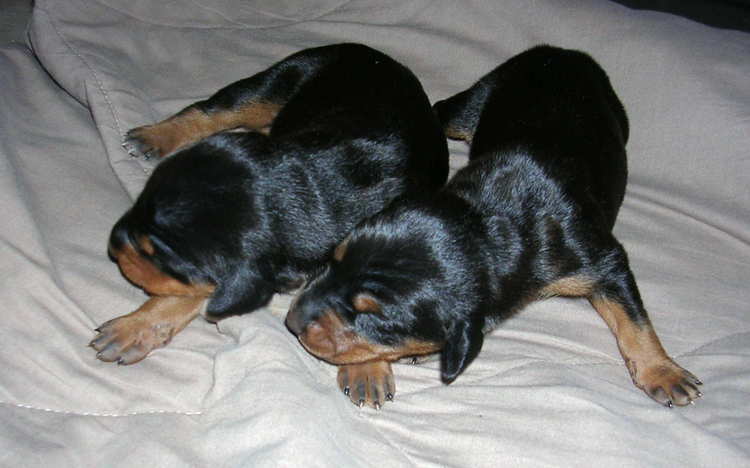 The two black females (they don't like each other!)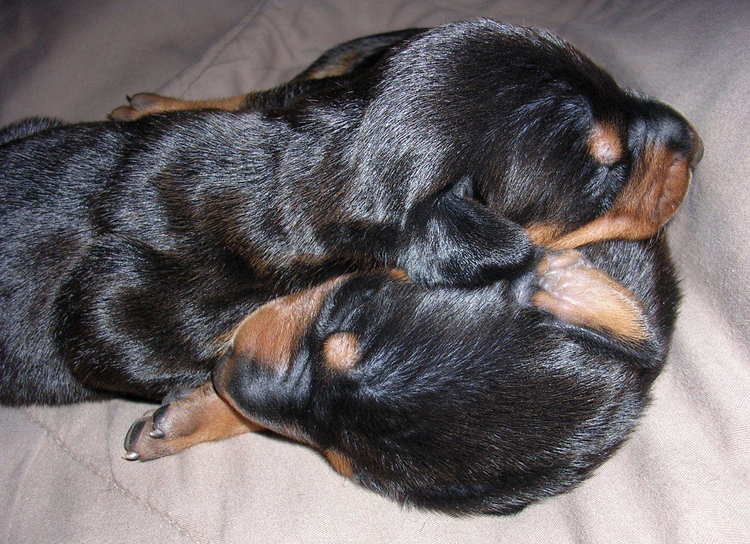 ---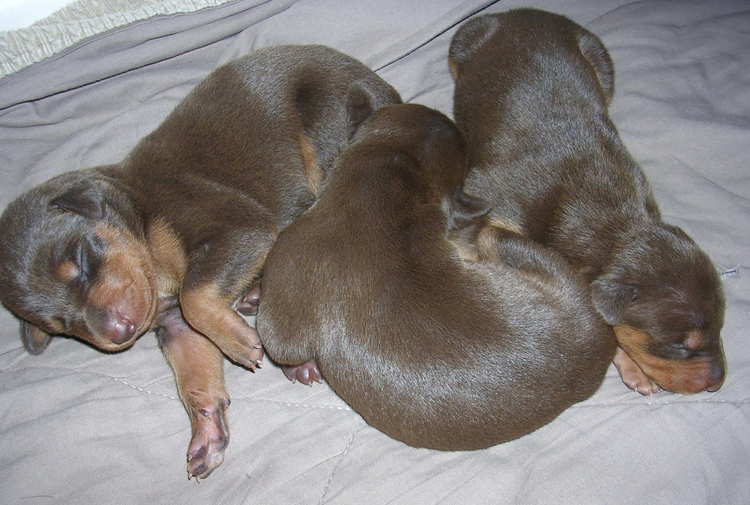 The three red females -
It is kind of hard to tell from the pictures but one of the females is noticably smaller than any others in the litter. I would consider her the runt. In the picture above, she is on the right. In the picture below, she is in the middle.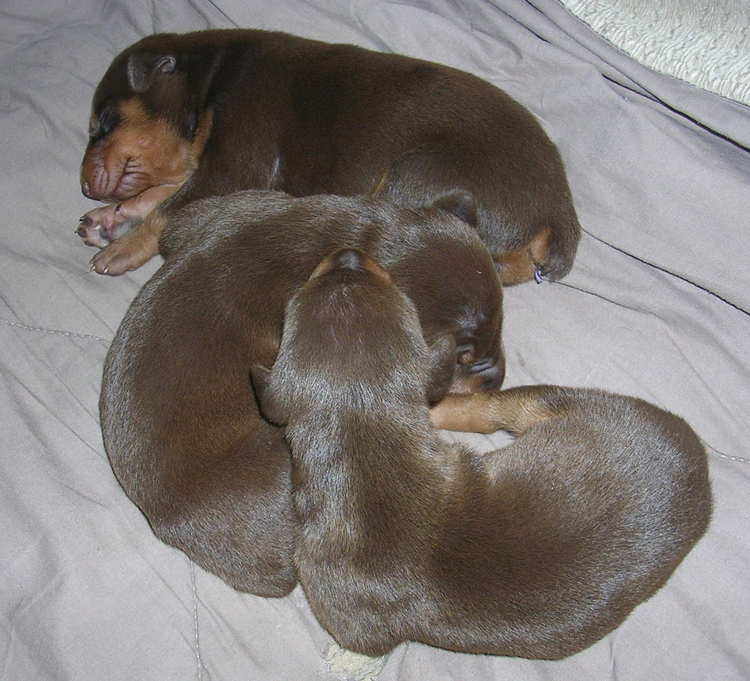 ---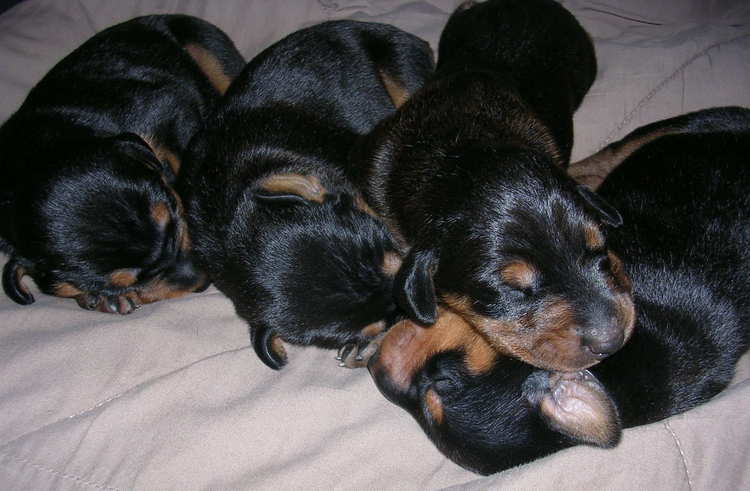 The four black males -
Again, it is hard to tell much from these pictures but two of the males are a bit larger than the others. Nonetheless, all are healthy and of good size!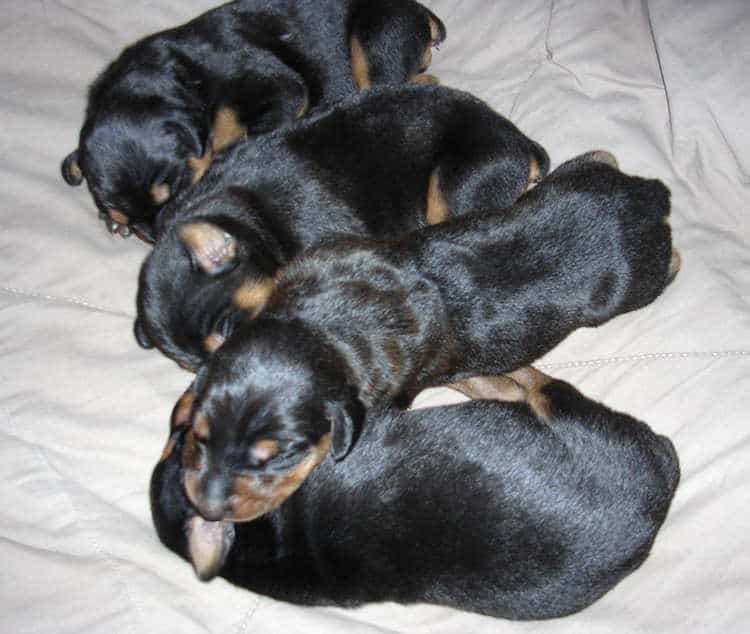 ---
Find a New Home for Your Dobe
Doberman Rescue Organizations
All Content Copyright © 2000-2010 GarrettsDobermans.com.
All rights reserved.