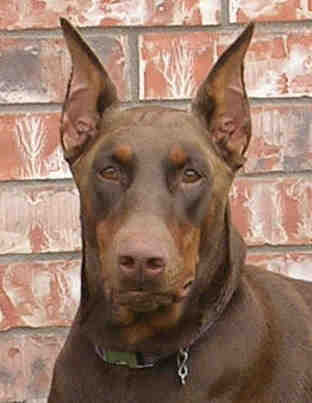 Garretts' Dobermans .com
Welcome to Garretts' Doberman Puppy Site!

Scarlett's 1st Litter's 8th Week
---
First Litter Links - Born October 2, 2005:
1st Litter's Home Page
First Day
Tail Dock
Food Intro
1st Grass Play
1st Week
2nd Week
3rd Week
4th Week
5th Week
6th Week
7th Week
8th Week
Development Diary
Sire of this Litter
---
This week has been a whole lot like last week -- ear croppings and pups going home. Violet, Willow and Ozzy all had their ears cropped on Monday. Brandi went home Monday. Willow will go home Friday. Then Ozzy, Raider and Violet will all go home Saturday. That will leave us with one pup, Trinity, who will go home the following Friday.

Because we have three pups with their ears cropped, we have had to pay them special attention. One thing I have to say is these are some sweet, lovable pups!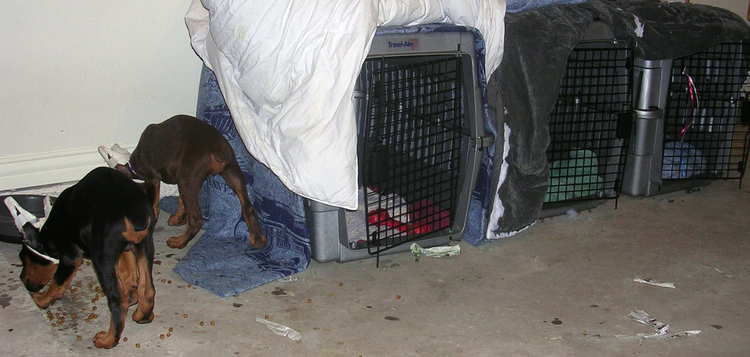 This is the set up for the three with cropped ears ..
Three individual crates and they can only be together
under close watch. They try to bite each others' ears - ouch!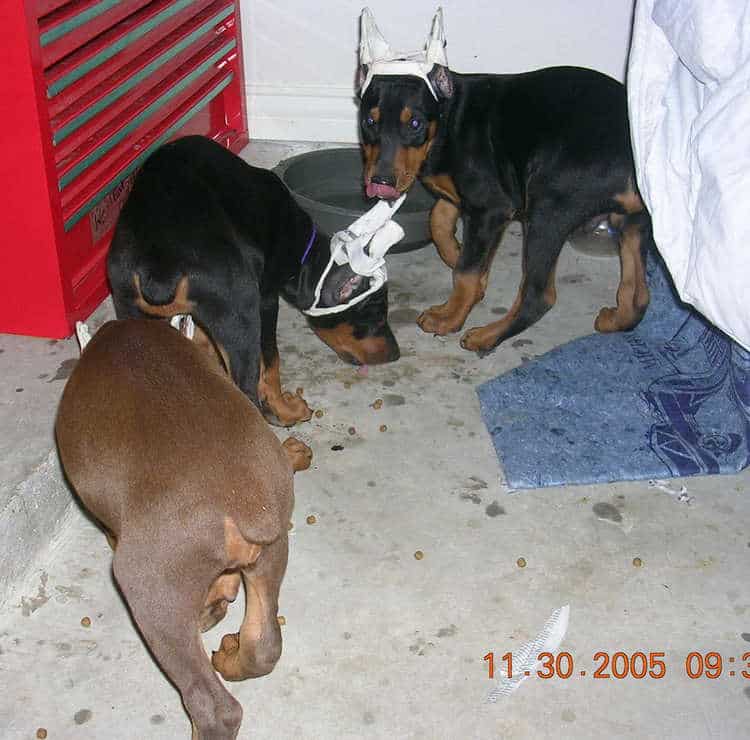 Since the croppings, they have been pretty wound up - and things
like food gets spilled all over! They are pretty tired of not
getting to romp & roll like they did before the surgery.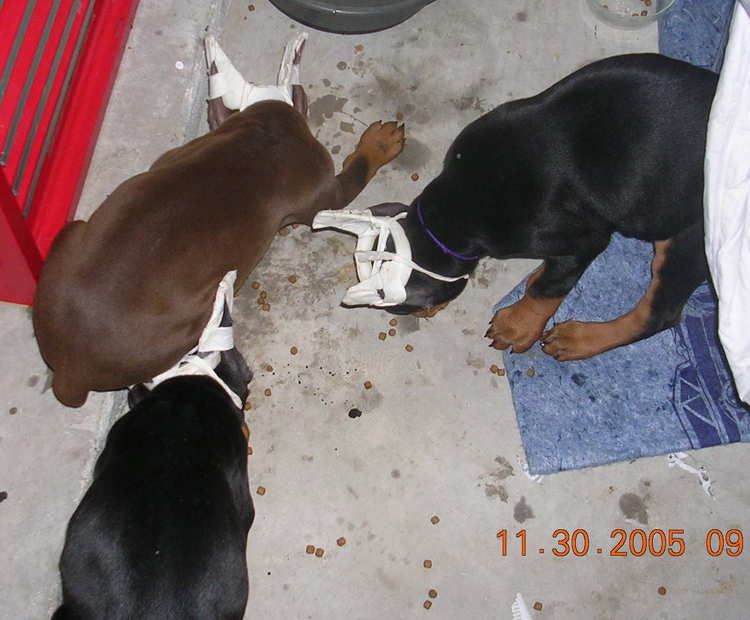 For now, they occasionally get to eat together. Mostly,
they are kept separated .. alternating turns on being inside or
having full run of the garage or being kept in the crate. They
have stopped protesting the set up .. for the most part!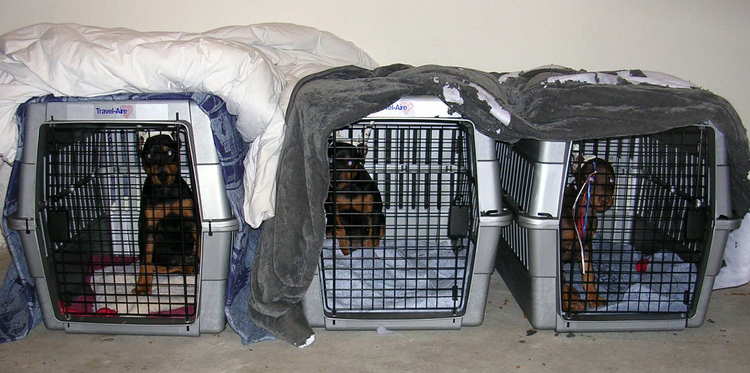 When we have to leave the house .. and when it is time to sleep ..
all three are put up, and they are actually getting use to it with little fuss!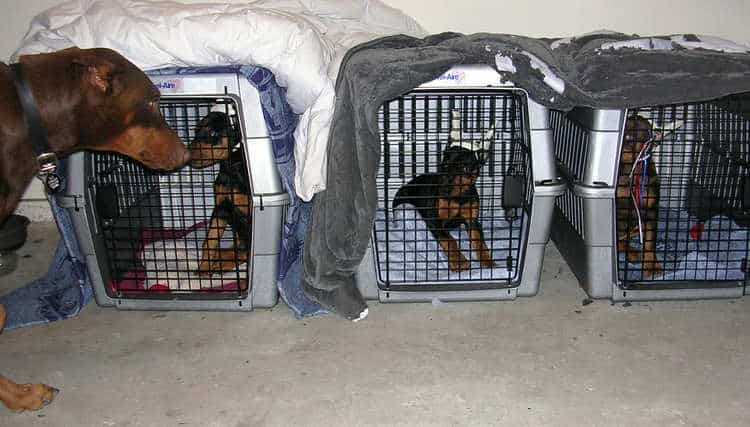 Mom really doesn't understand why she can't be in direct contact
with her pups. The problem is she wants to lick their wound - Not good!

[Ozzy is in crate on the left, Violet middle, and Willow far right.]

---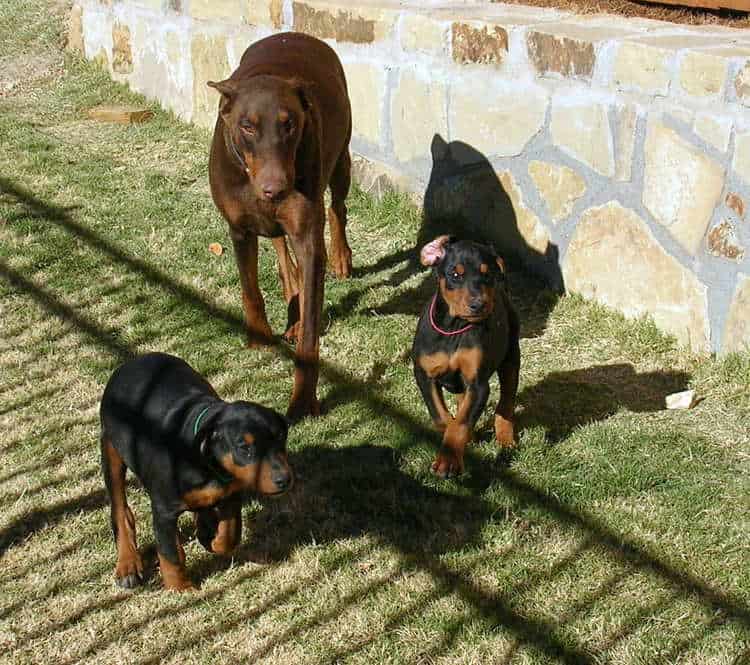 This is the life of the other 2 pups still site .. play, play, play!!
Trinity has the green tag, Raider the red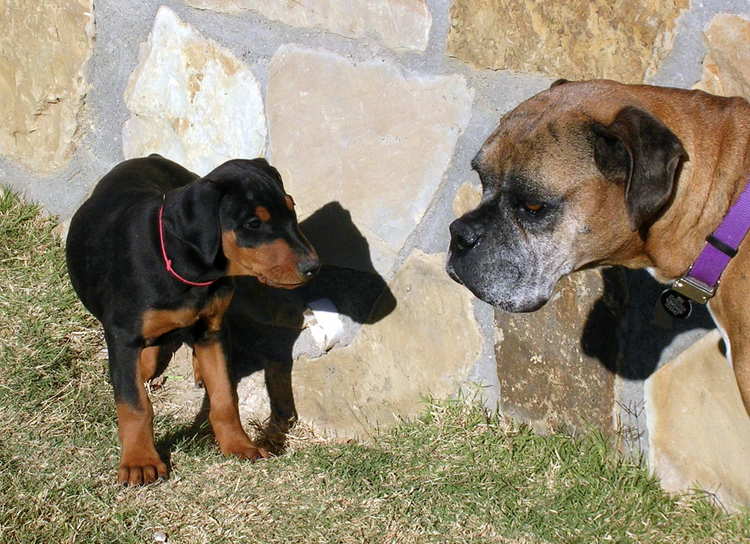 Raider is thinking about pouncing on our Boxer, Brindie!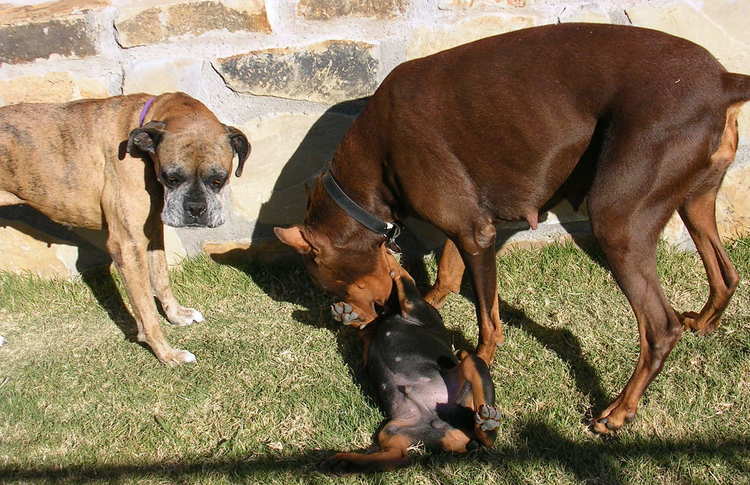 The adult dog interaction can seem a little overwhelming at times!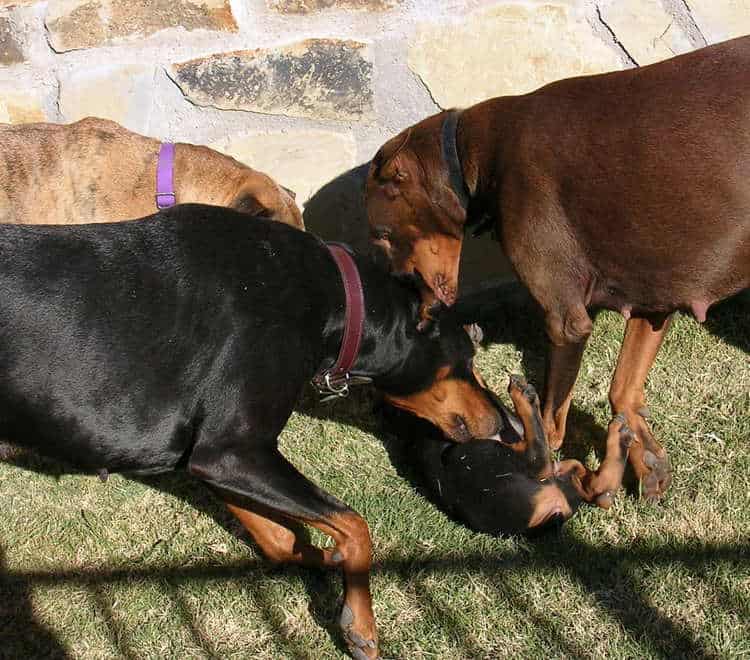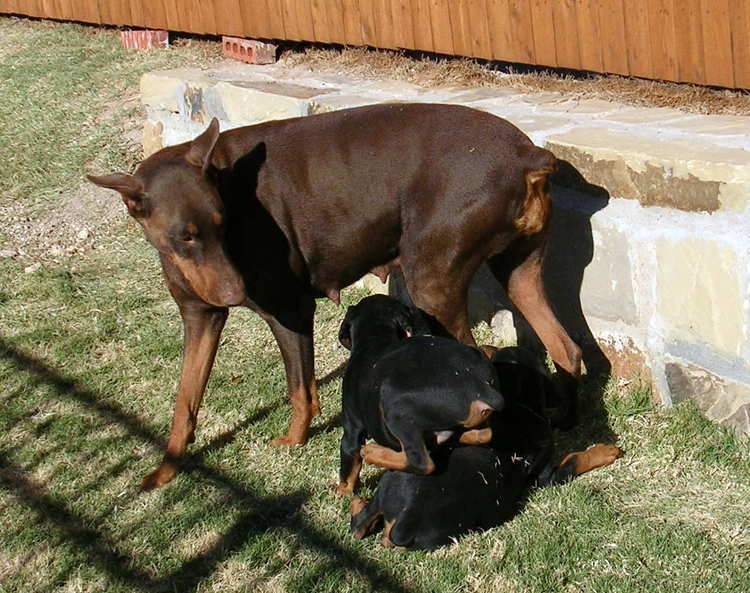 Mom watches as Trinity tackles Raider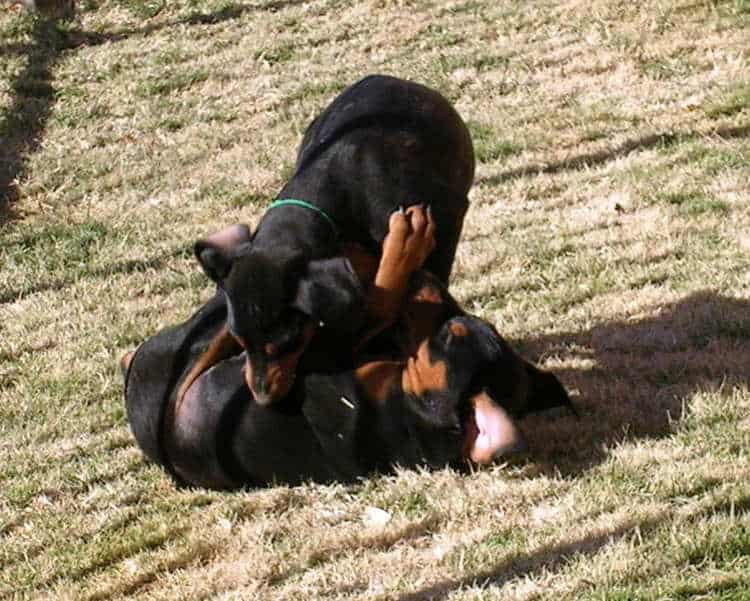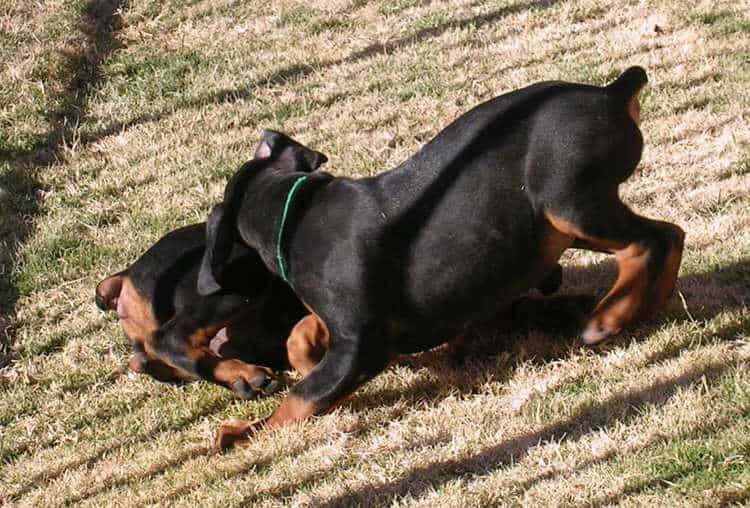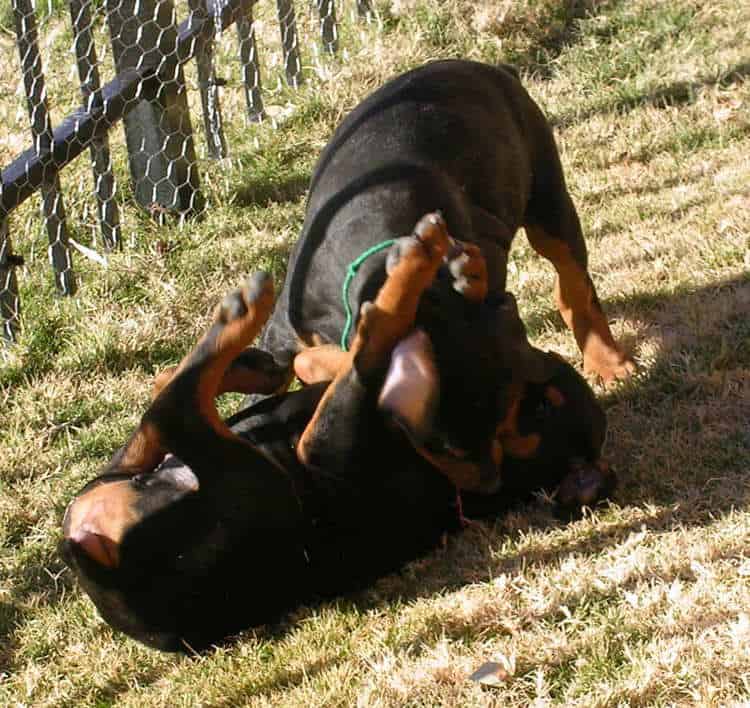 ---
Find a New Home for Your Dobe
Doberman Rescue Organizations
All Content Copyright © 2000-2010 GarrettsDobermans.com.
All rights reserved.