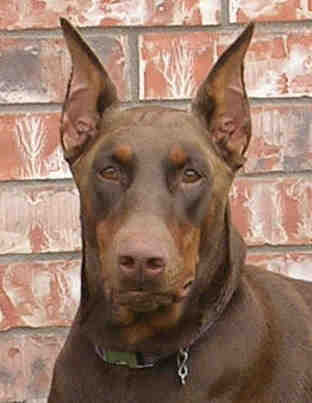 Garretts' Dobermans .com
Welcome to Garretts' Doberman Puppy Site!

Scarlett's 1st Litter's Development Diary
---
First Litter Links - Born October 2, 2005:
1st Litter's Home Page
First Day
Tail Dock
Food Intro
1st Grass Play
1st Week
2nd Week
3rd Week
4th Week
5th Week
6th Week
7th Week
8th Week
Development Diary
Sire of this Litter
---
That concludes the diary entries. For future updates for this litter (sent in by the owners themselves), check the individual puppy links listed on Scarlett's 1st Litter's home page.

December 9, 2005 -
Trinity flew home today. My oldest son and I got up before the crack of dawn to get her to the airport .. with her being the last one, he grew attached to her and wanted to help me get Trinity on her way to her new owners. Now, here is the funny part, at the time Trinity was flying out .. it was colder here in Texas (18') than in Canada (21')!?

December 3, 2005 -
A happy - and sad day for us. Ozzy went home this morning with his new family (Bonnie, Jason, Zach) to Addison, Texas. Raider also left this morning (shortly after Ozzy) with his new family (Brian, Michelle and children) to live in Oklahoma City.

Violet flew home this evening to be with Tara, Jerry and their three children in Effort, Pennsylvania. That was a little bit of an ordeal because the first flight Violet was to go home on got cancelled. Tara was quick to find a new flight and we got her baby to her without any problems.

December 2, 2005 -
Willow flies home this evening to her new family (Mike, Laura, Sarah) in Sunrise, Florida.

November 30, 2005 -
Second round of shots given and heartworm prevention started with Trinity and Raider.

November 29, 2005 -
Second round of shots given and heartworm prevention started with Ozzy, Violet and Willow.

November 28, 2005 -
Violet, Ozzy and Willow all go to get their ears cropped today and stay overnight at the vet's office. Brandi gets delivered to her new owner in Rockwall .. and Raider and Trinity come along for the ride.

November 24, 2005 -
The red female tagged red finally gets a name -- Brandi.

November 23, 2005 -
Sasha flies home today to her new owner, Shelley in Cottonwood, California.

November 21, 2005 -
Dillon flies home today to his new family in Mankato, Minnesota.

November 21, 2005 -
The littlest red female and Vader both get their ears cropped today and stay over night at the vet's office.

November 19, 2005 -
We drove to Nacogdoches to surprise his new owners (some of our family) with their new pup - Pyro.

November 17, 2005 -
Other than Pyro and Violet, the pups and our adult dogs went home to my mothers so that we could make a surprise delivery on Saturday. (Violet came along for the ride to keep company and meet some fans!)

November 16, 2005 -
Red female tagged red has found a home and that now makes this litter sold out. She will soon be living with Vicki in Rockwall, Texas -- which, by the way, is my mother! So, my two sons' favorites will each be living with family members - Yeah!

November 13, 2005 -
Mom is officially weaning the pups! As pups try to grab hold, she turns her body such that they can't latch on -- then, she tries to entice them to play instead. Smart!

November 11, 2005 -
The first day I have observed the puppies venture any distance away from the patio. They are starting to get brave - and quite curious! Also, all pups received their first round of puppy shots - and, they actually did great!

November 8, 2005 -
Doug and Stephanie from Minnesota have chosen a name for the black male tagged blue. He is now Dillon -- they said as in Gunsmoke's Marshall Matt Dillon.

November 8, 2005 -
Shelley from California who has the first pick of the red females just let us know she wants the red female tagged green -- her chosen name, Sasha.

November 7, 2005 -
Notified via email that Doug and Stephanie of Minnesota would like the black male tagged blue to join their family.

November 6, 2005 -
A second red female sold to Mike in Florida after a nice conversation on the phone.

November 3, 2005 -
Notified that Troy and ChunCha have named their black male tagged green Lord Vader. We love it! Troy said they are not Star Wars nuts, just liked the name -- we are nuts for Star Wars, good name.

November 2, 2005 -
Our black males have been very popular this week! Two visitors drove 190 miles just to look at them and found the boy they want to join their family. The one they chose is tagged green.

October 31, 2005 -
Trick or ... TREAT!! The pups got to try food for the first time today. They loved it!

October 29, 2005 -
Two visitors came today from Oklahoma to see the black males. They made the 3 hour drive just to spend some time with the pups. A pick was made. Their chosen pup is the black male with the red tag.

October 29, 2005 -
Shelley from California writes to tell us she has picked a name for the red female (pick pending) she is waiting for to come awesome. The pup's name will be Sasha.

October 28, 2005 -
It was a gorgeous day so we introduced the pups to the grass today. They were very curious at first then played for awhile. We kept mom away from them until they seemed a little tired of playing. When mom joined them, it became mealtime ... then nap time!

October 26, 2005 -
The black males had visitors today from Addison, Texas. This family was able to make a pick, even at the young age of 3 weeks. They also already had a name picked out. The pup tagged BMP (black male purple) is now known as Ozzy.

October 25, 2005 -
Funniest thing, pups are hearing REALLY good now. I made a fairly loud noise while around their pen and everyone of them jumped, then looked very puzzled!

October 22, 2005 -
Pups respond to noises and ears are almost completely open -- they can hear!

October 21, 2005 -
More bads news for mom -- Bottom set of teeth have cut through the gums!

October 19, 2005 -
Bad news for mom -- Top teeth have cut!

October 18, 2005 -
Until today, when we would hear noise out of the pups we knew they needed us to help them find mom or that they were tangled up in a blanket -- yes, that is a big concern for the first two weeks, they will just scoot right under it (not that often, though). Today, we heard them making what we though was a terrible noise -- ran out there, they were playing!!

October 16, 2005 -
Yesterday we noticed the pups beginning to try and play. Today they are trying even more so. It is such a clumsy attempt you can't help but chuckle!

October 15, 2005 -
For the pups' 2 week "birthday", we moved them to an area with more space. The laundry room is just not big enough anymore as they are scooting all over it now! Go to the two week link above to find out more.

October 13, 2005 -
The pups eyes began to slit open this morning and by the evening we could see their little eyes -- they can see! Well, probably not too good, but at least they are getting some light in their life now! Also, they are entering into the "toddler" stage -- getting up on all fours only to "crash" down when trying to go forward. Really too cute!

October 12, 2005 -
Gave pups their first bath today. The first bath is always a surprise for them. Some seem comforted by the warm water running over them (did it remind them of being in the womb?) while others where more comforted by the strokes of my hands as I lathered them up. Only two put up much of a protest - the smallest red female and one of the larger black males. Those two were the most vocal!

Notified that Tara and Sean have chosen a name for their pup: Trinity

October 11, 2005 -
The second and third puppies are officially spoken for - a second black female will be going to Tara and Sean in Canada. A red female will be going to Shelley in California.

October 9, 2005 -
The pups are noticably stronger. They are pushing and pulling themselves in what looks like a military crawl.

October 7, 2005 -
The first puppy is officially spoken for - one of the black females will be going to Tara in Pennsylvania.

October 5, 2005 -
I noticed last night that the pups nails were getting a little sharp
for mom when they are nursing (already!?) So, this morning, I clipped
the front nails to ease the nursing process for mom! The nails seem to
grow even more overnight. That milk must be good stuff!

October 4, 2005 -
Went to the vet this morning at 8:45 a.m. to get tails docked and dew claws removed. No fun but the pups did fine.

October 3, 2005 -
All pups are healthy and eating well. Mom is doing good, too!

October 2, 2005 -
Scarlett went into labor at about 5:30 a.m. this morning. Around 11:00 a.m. the first puppy was born - a black female. The next pup was a red female then another black female. Then came the boys - 5 in a row!! The last two were red females. It was an all day event ending around midnight.

---
Find a New Home for Your Dobe
Doberman Rescue Organizations
All Content Copyright © 2000-2010 GarrettsDobermans.com.
All rights reserved.