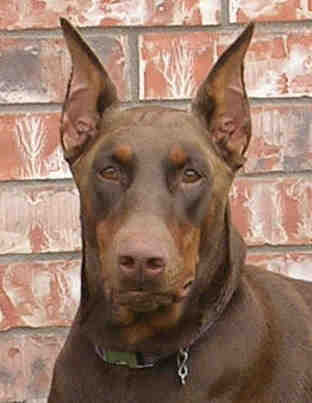 Garretts' Dobermans .com
Welcome to Garretts' Doberman Puppy Site!

Scarlett's 2nd Litter 4th Week
---
Second Litter Links - Born April 1, 2006:
Litter's Home Page
First Day
Tail Dock
Food Intro
1st Grass Play
1st Week
2nd Week
3rd Week
4th Week
5th Week
6th Week
7th Week (pending)
8th Week (pending)
Development Diary
Sire of this Litter
---
This was another eventful week for the pups. Mom has started weaning them so we introduced food for the first time. Scarlett really has a desire to still get in there and take care of them .. it's just starting to hurt too much (the claws mostly)!!

We have also been able to give them lots of playtime outside. As you will see in the pictures below, we took one of the kids' new yard additions and made it serve two purposes. The trampoline now serves as a puppy pen .. who knew!

I was really worried about the hawks seen flying over the pasture behind us so I was wanting to come up with something to protect them when out in the yard without us present. Then a light bulb went off .. wrap chicken wire around the legs of the trampoline! Now, the pups have a large area of yard that is covered. They love it, Mom is happy (important, believe me!), the kids just love it and my mind is at ease. When we are outside, we will let them out if they seem to want out but right now they mostly seem to like the shade it provides. And, the kids prefer it under there, too, as a major portion of their day is spent right there hanging out with the pups!

Balance has improved greatly this week. Rarely do we witness a pup tumbling over anymore. Now, they try to charge .. at us and each other. And, they are really proud of their little growls demonstrating they are ready to play. It's been a fun week!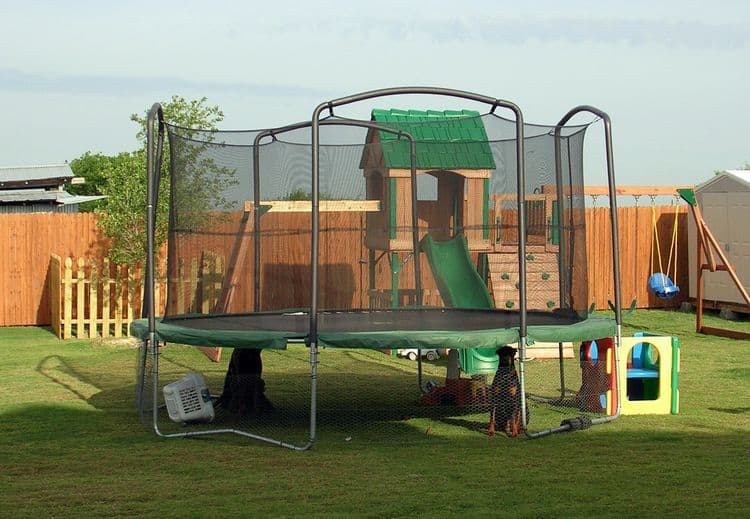 Mom and Grandma in with the pups at their own will ..
able to get in and out as they please!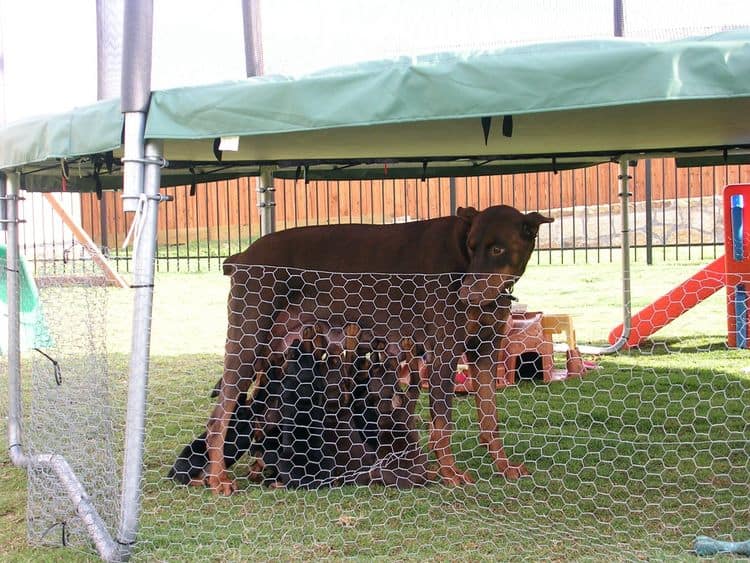 Mom is still willing to feed the pups as shown here.
Feeding sessions are shorter, though, and mostly while standing!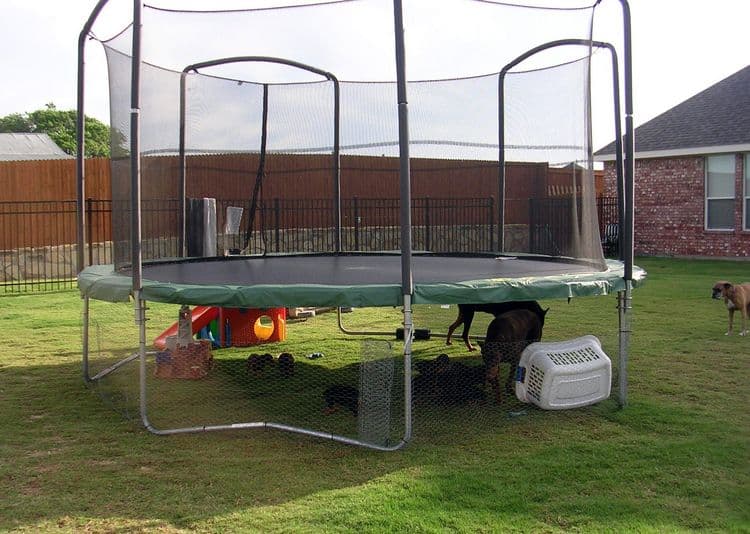 Another shot of the new set up.
This is the side from which Mom, Grandma, and the kids enter.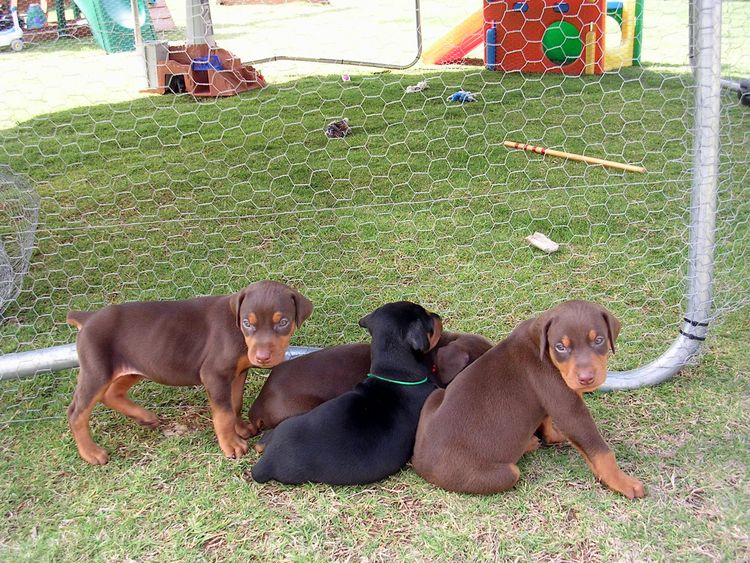 These little rascals wanted to be on the "free" side ..
yet they mostly stayed in the shade of the trampoline!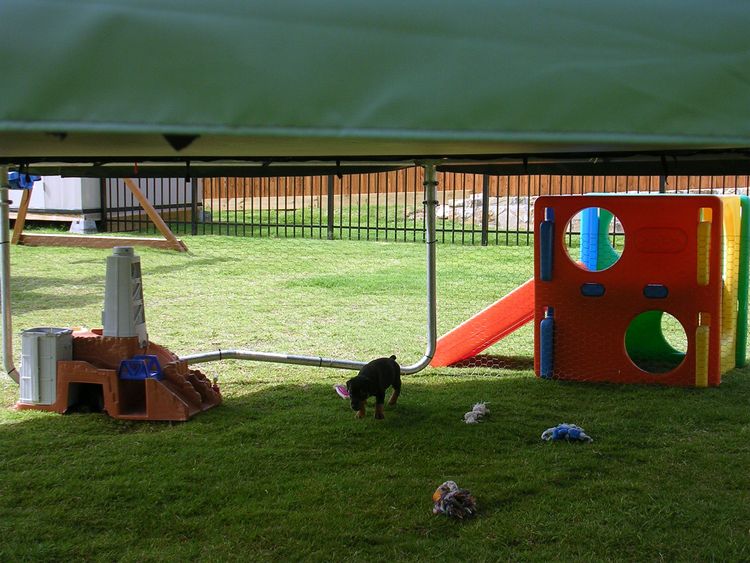 See the toy on the left?
That is where the other pups are .. all piled in it
and a couple on the other side!!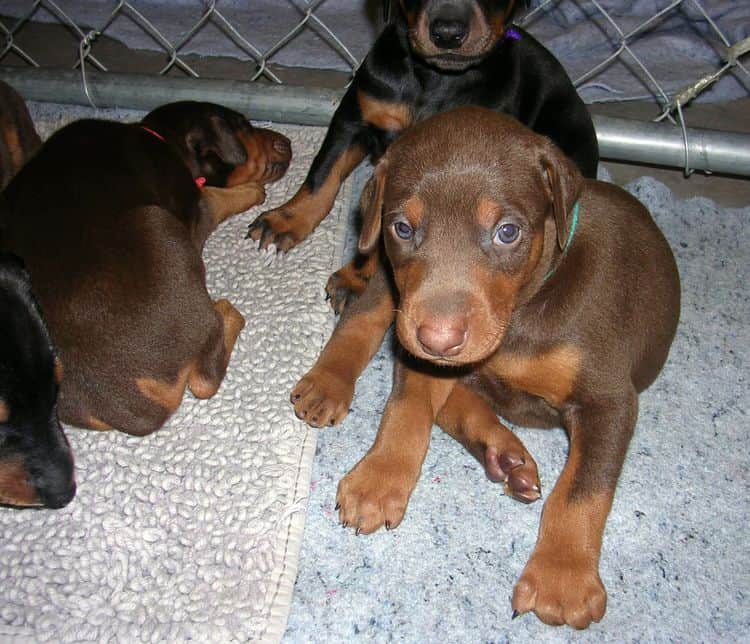 When it is time for us to leave the house or the sun starts
going down, it is back the the cozy pen in the garage.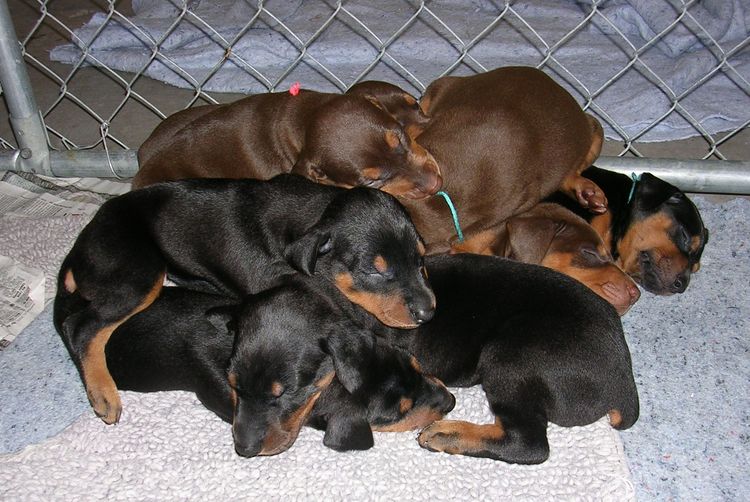 After a hard day of play, they like to make one big puppy pile!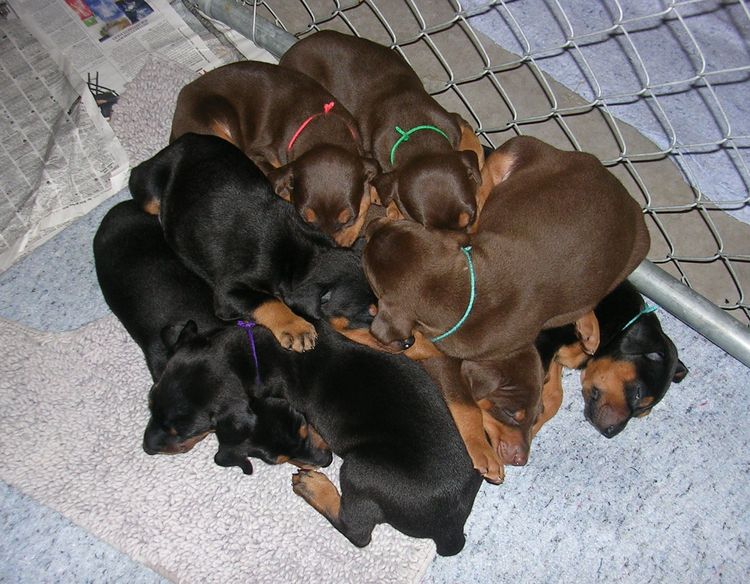 ---
Find a New Home for Your Dobe
Doberman Rescue Organizations
All Content Copyright © 2000-2010 GarrettsDobermans.com.
All rights reserved.