Natasha

Black & Rust Female out of Aggie's 1st Litter
(Born January 3, 2000 -- Owned by The Satarinos)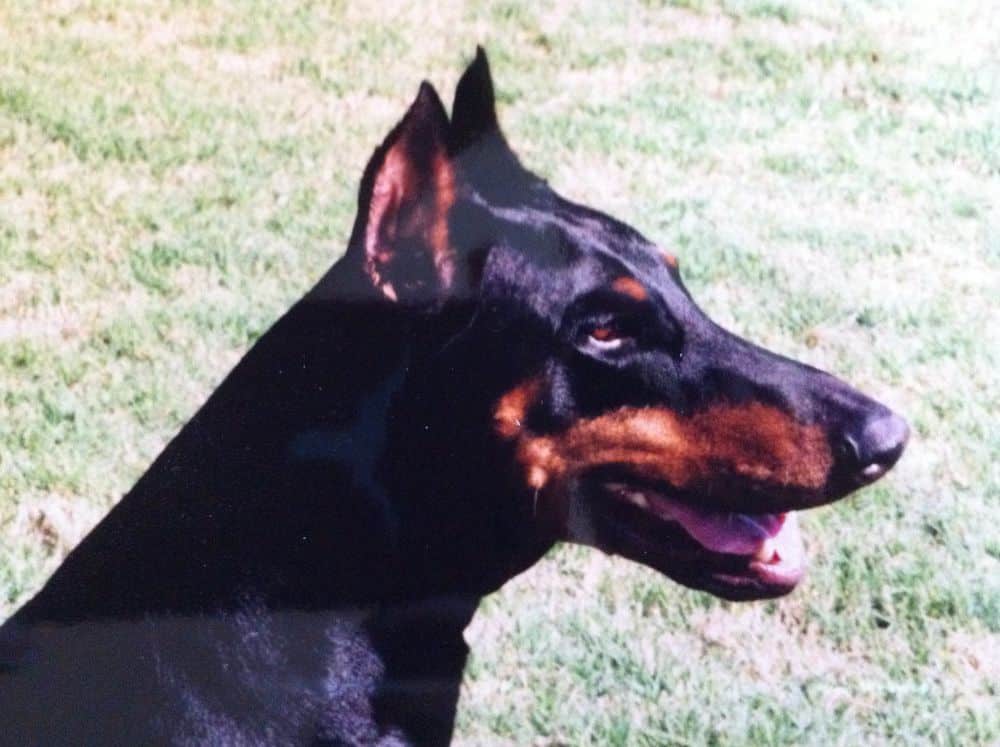 September 18, 2012 -

"Sad Day for all of us yesterday, as our beloved Natasha died at Dr. Schafer's office. Dr. Schafer thinks she suffered a few minor strokes since July. In July, she had a problem with her left 3rd eyelid. Couldn't figure out what caused it (at that time), not to come back down over her eye.

This weekend, she quit eating regular dog food, but would eat dog treats, turkey sandwich meat and our baked chicken for dinner. Yesterday morning, she went out with Sam in the front yard walking with difficulty slowly, but enjoyed listening and breathing the air. Like raised her head and just "smelled". Then when it was time to leave for appt., Sam told her we were going for a ride. She LOVED car rides.

We thought we would have a problem getting her into my car, but she went to get in slowly, but like normal. Then we thought she would stand all the way, but again, she surprised us by crawling up on the back seat, turned around to face me, and layed down. After laying down, her breathing relaxed like "yeah, I'm laying down and resting". She looked out the windows as we drove her in and was really content. Sam was petting her all the way and she was "happy".

When we got to the office, one of the assistants came to carry her in for us as we pulled up to their side sliding door entrance. After he carried her in, she wouldn't stand, but wanted to lay down. Sam was petting her when she took a bigger breath and her heart stopped.

I can't stop crying....but know she had a wonderful life and we MISS her terribly!

Leslie"
----------------------
"Leslie, I am so sorry. Nothing can be said that can ease the heartache and she can never be replaced. You gave her the perfect dog life, right to the very end. Thank you for providing her with so much love. --Laura"

April 27, 2014 -

"F Y I - we rescued a 5 yr old female Doberman 1 week ago today. I didn't know if you see my FB posts. I didn't plan it; it just happened. I knew Sam said he wasn't ready - misses Natasha so much, then we lose Emma - I thought I would check into "fostering". Instead we come home with one.

BUT we still want to be #1 on Sable's puppy list for this summer, please. As we discussed previously, Kelley might be ready for a puppy then. Right now, she's grieving real hard.

Hope all are well & breeding works out wonderfully for y'all this next go - around.

Leslie"
March 20, 2012 -

Laura - thank you for the pictures. We have forwarded to several friends. Natasha is 12 (I'm sure you remember), and Emma is 6 now. Kelley will be moving and taking Emma with her, and so I thought we'd be ready for another puppy. Of course, Sam is saying his usual "no", but he liked the looks of one of the puppies right away. BUT I'm a "girl" puppy person. Just have that preference. I bet by now you probably have homes for these blue/rust boys.

[[Reference to Ellie litter]]

I was surprised that you said folks are looking more for the old fashion "rust/black" like Natasha. I guess like fashion, colors in Dobies change over the years, and then come back "in fashion" as they say.

I love seeing the pics of your family. Can't get over how the kids are growing up so fast. They all do, I know, but it seems like life is really flying fast since Sam and I entered the retirement age! Watch out...all of sudden its upon you and you wonder "where did the years go".

The Satarinos
Leslie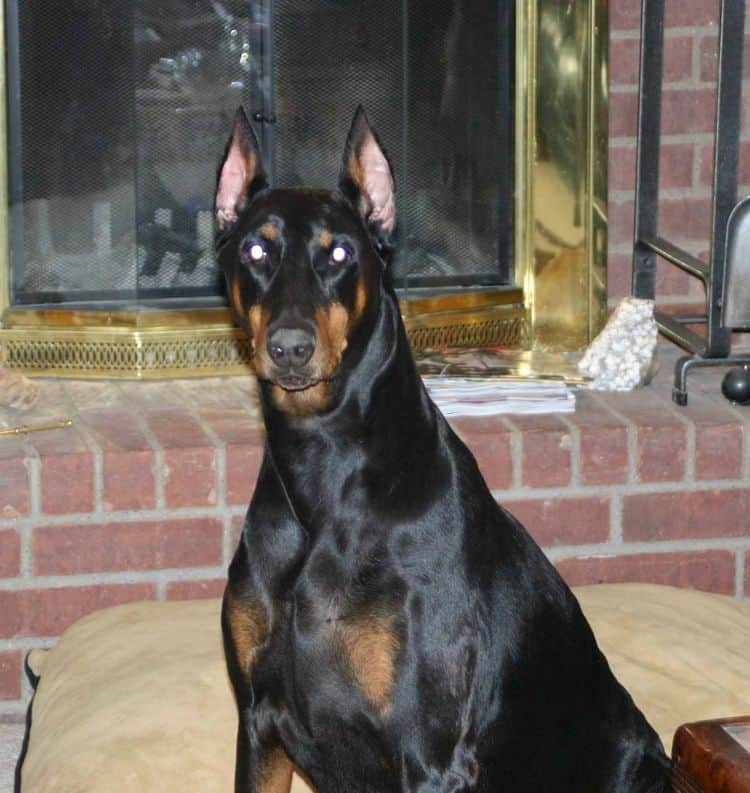 Picture taken November 18, 2006
-- Grand-puppy visit --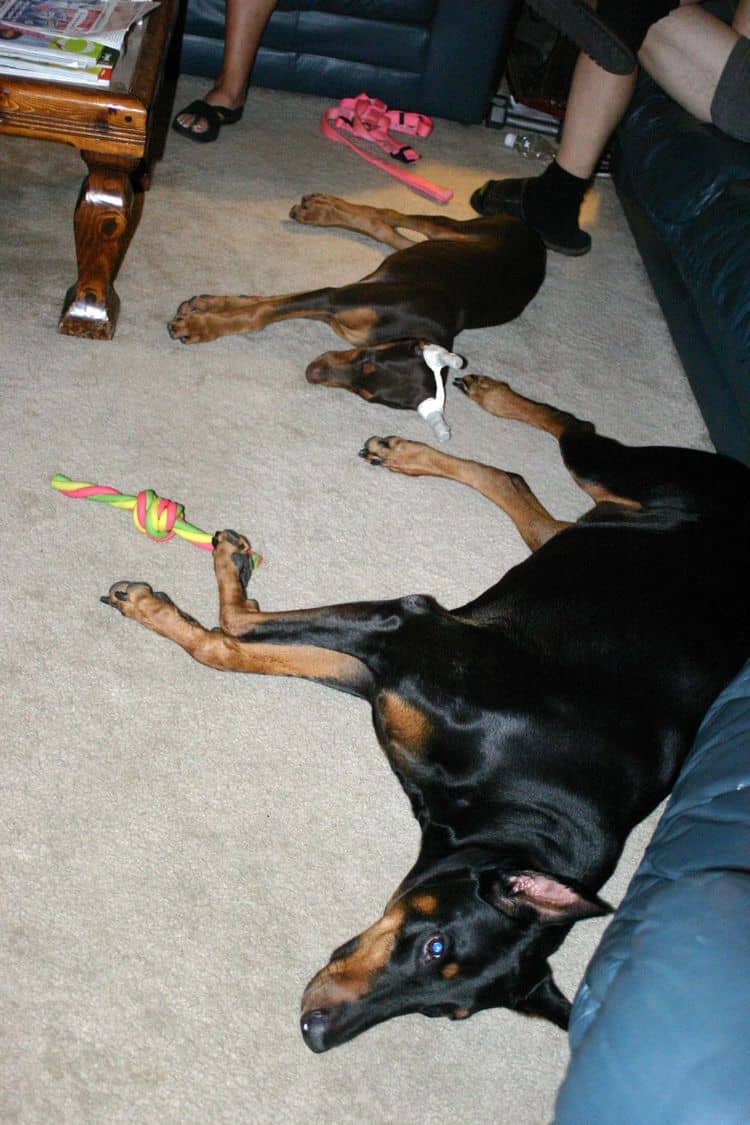 Leslie's daughter's puppy, Emma, & Natasha
Emma is from a different litter.
Click Here to view Emma's page)
REFERRAL Letter written upon request for potential owner:

April 30, 2003 -

"Hi! We are please to give any information/reference on Laura Garrett. We purchased our female Doberman, Natasha, from Laura in March, 2000. We think the greatest of them: as breeders and as a family. You can learn a lot about a breeder, I believe, by observing how their family life is, how their dogs and puppies were treated and interacted with the family."

"We were there over 2 1/2 hours in their backyard studying 2 female puppies - trying to make the decision between them (2 females were available at the time). My college daughter was with me as this was to be her dog and this gave us time to visit and watch the other puppies with their Mom, Aggie. We have kept in touch with Laura with visitations with Natasha to visit her Mom, Aggie, and on one occasion, Natasha spent several days with them while we were out of town. We couldn't leave her at a boarding place - at that time hadn't found one we trusted."

"Laura breeds for the future of Dobermans. She is not a person who breeds 'for money', but to promote the breed. She promotes safe, family pups and does not breed for aggressive dogs. She provides for the pups and Mom the best of medical care, all shots, etc. Our Natasha is a house dog and has been the best dog we have ever had: smart, loving and the most gentle, big girl you would want. Her Dad, Sebastian, was over 100 lbs., and Natasha is also."

Sincerely,
Leslie Satarino and Natasha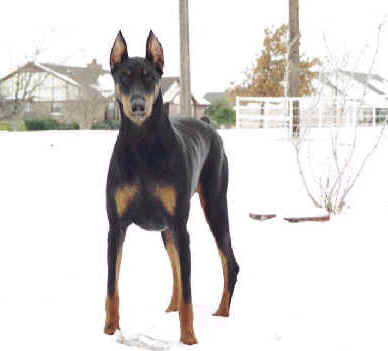 About 2 years old.
-- Satarino Family Christmas Picture, 2001 --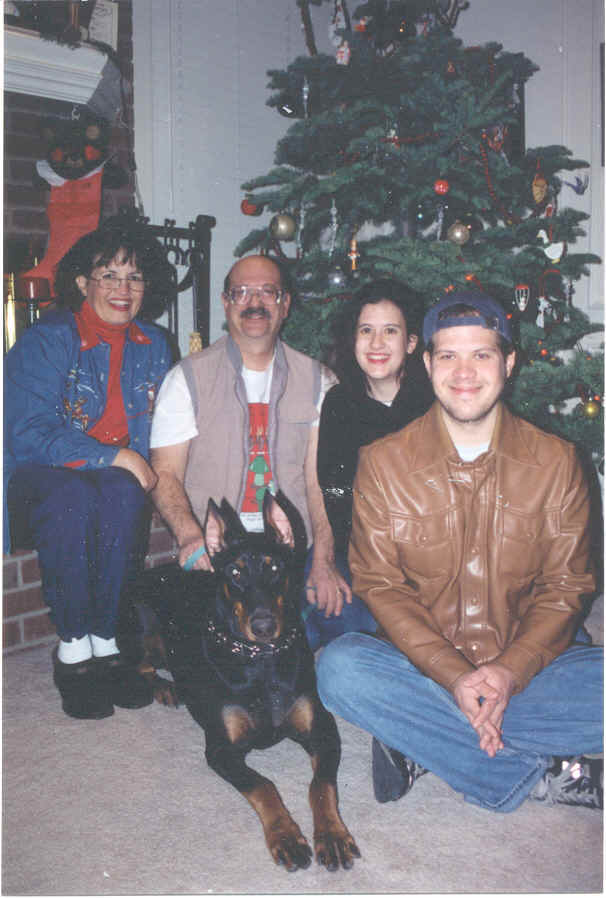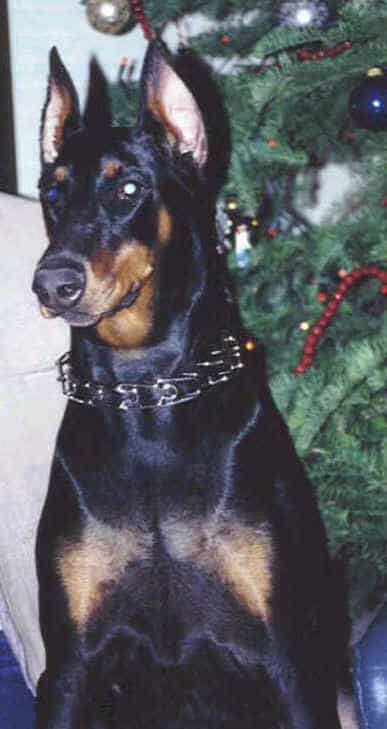 ---
The Garretts dog sat for Natasha Summer 2001
while Satarinos on vacation
---
-- May 2000 --
Natasha comes to visit the Garretts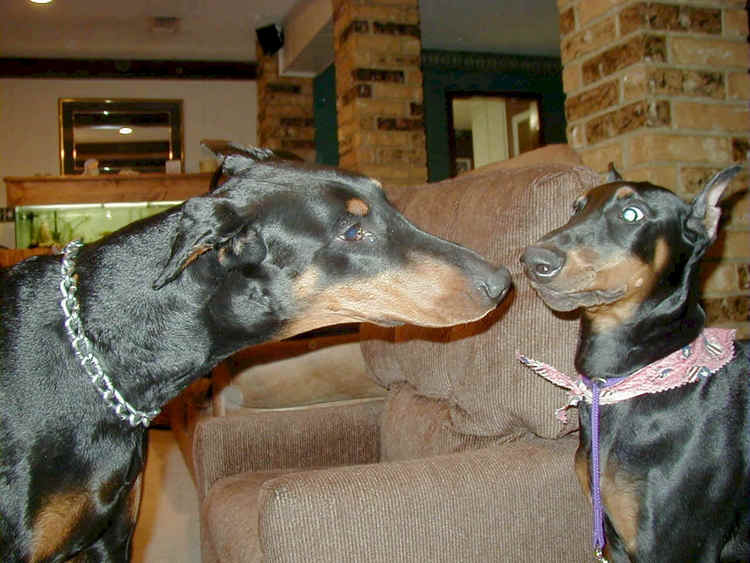 Aggie (left), Natasha (right)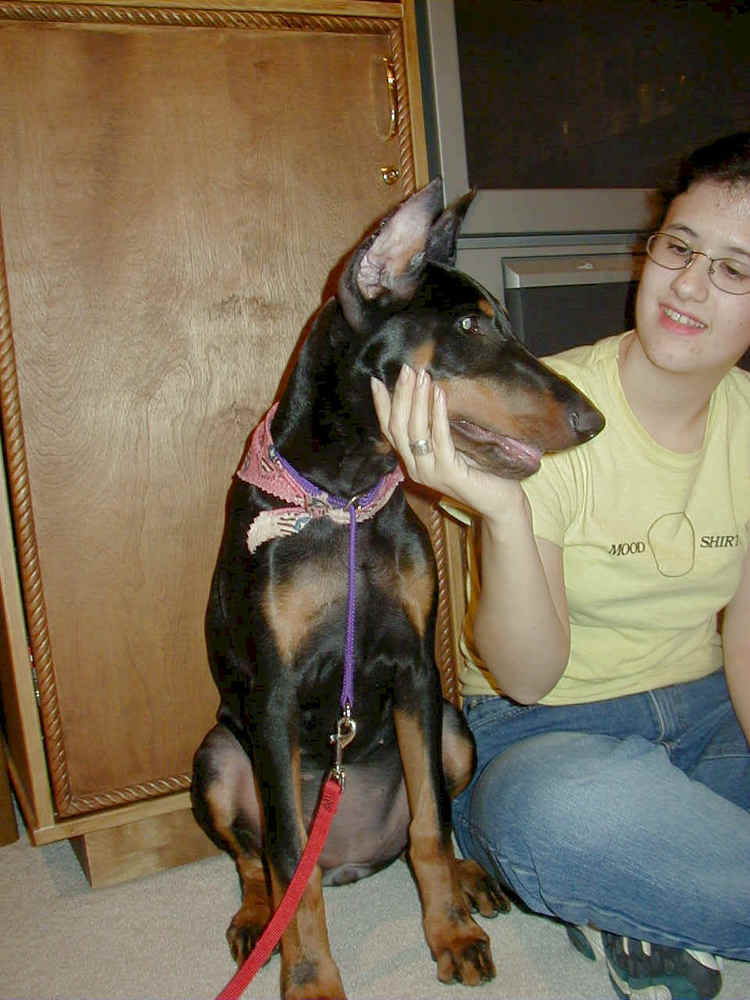 Natasha and Owner, Kelly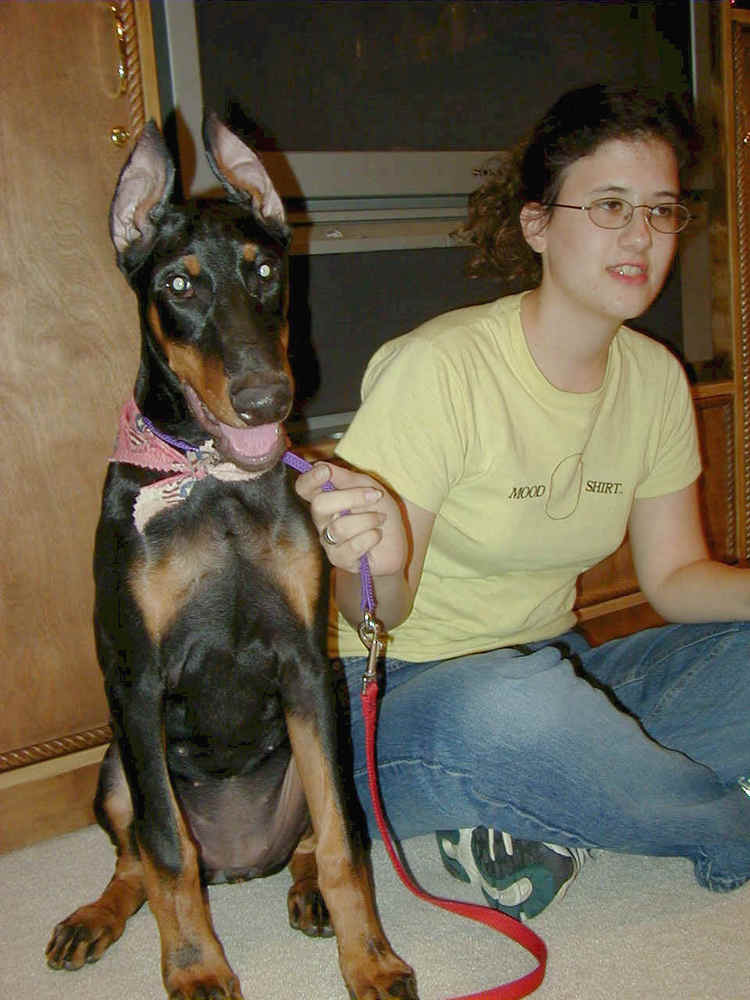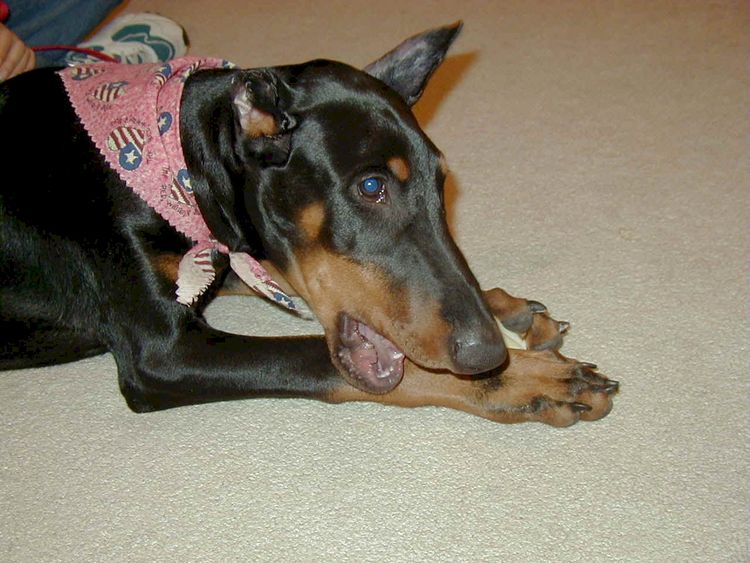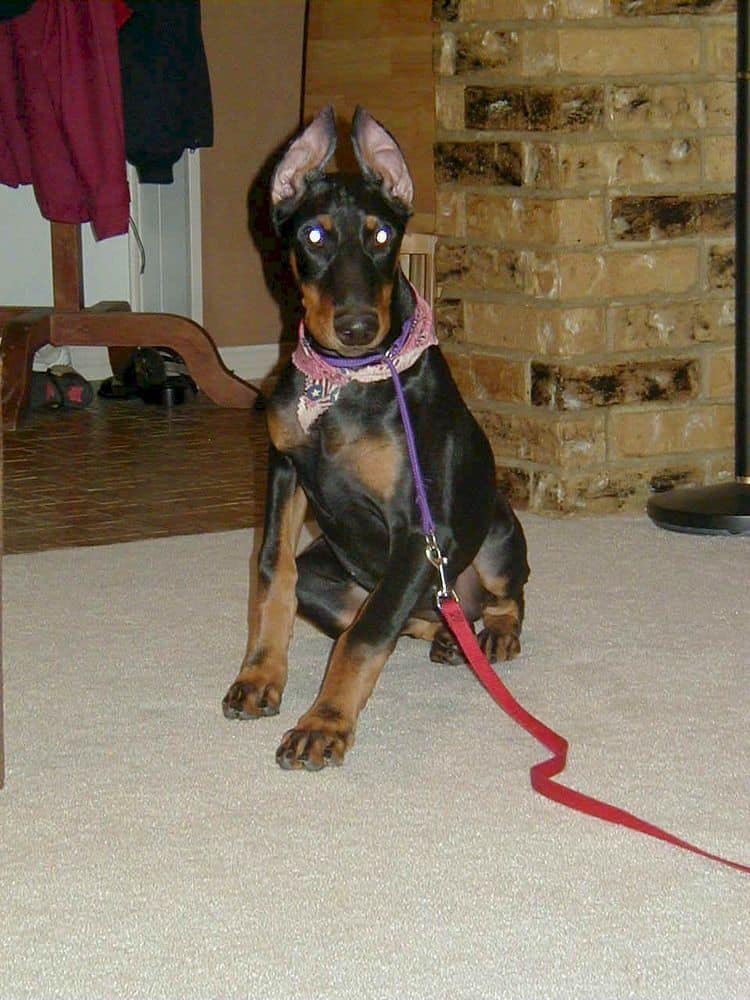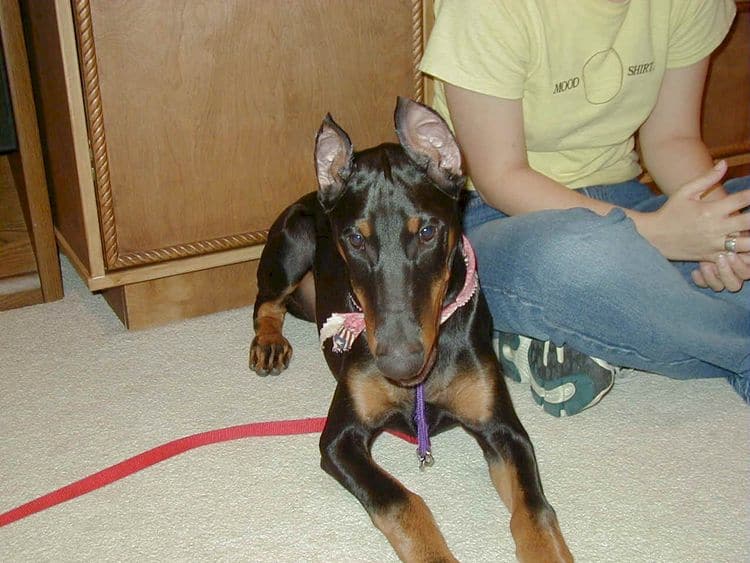 March 2, 2000:

Leslie reports to us that Natasha is doing great! She seems to be picking up on certain commands and is very lovable.
-- February 21, 2000 --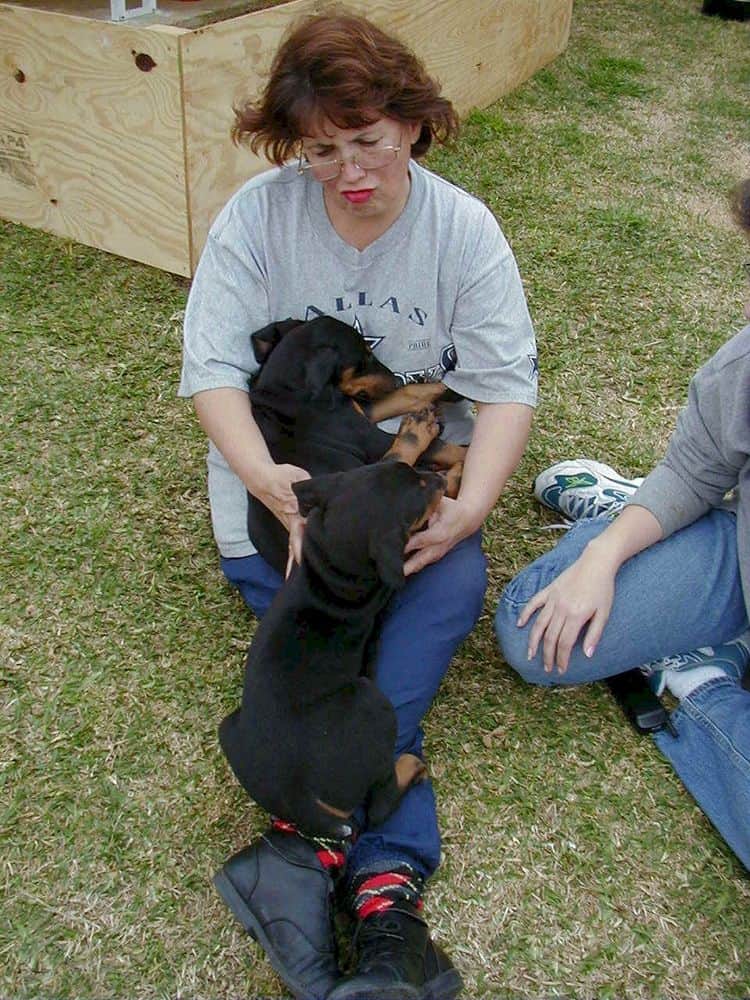 Leslie and daughter having a tough time
deciding between the two girls!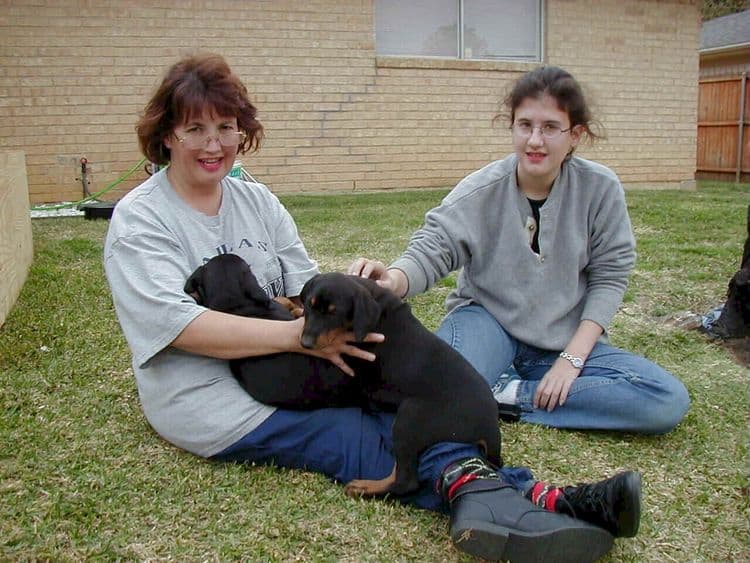 The second puppy sold to Leslie, Sam, and Kelley of Prosper, Texas on February 21, 2000.
Click Here to view Natasha's puppy page
Click HERE to see Natasha's Mother
Click HERE to see Natasha's Father
In 2006, Kelley purchased a pup out of Aggie's daughter, Scarlett's 2nd litter. Kelley was living on her own and wanted her own Doberman companion.
Click HERE to view Kelley's pup





All Content Copyright © 2000-present GarrettsDobermans.com.
All rights reserved.