Vixen's Red October: "Copper"
Red & Rust Male Doberman


Links to Copper's puppies:


Aggie's 2nd Litter
Aggie's 3rd Litter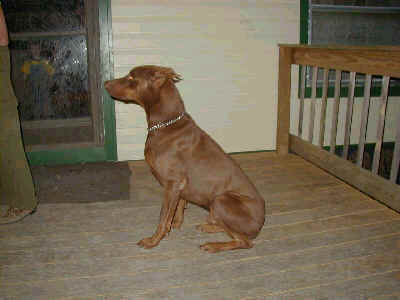 Copper
CGC, TT, OFA
[Deceased]
Color: Red and Rust, Dark brown Eyes

AKC Registered

Weight: 85 pounds

Excellent Disposition

Bred for Obedience

No white Doberman's in bloodline

TDI tested/passed but never certified

Sired Aggie's 2nd & 3rd litters
- Scarlett's Father
- Sable's Grandfather
- Blue's Great-Grandfather
- Grace's Great-Great-Grandfather



CGC - Canine Good Citizen
TT - American Temperament Test
TDI - Therapy Dogs Int.
CD - Companion Dog
OFA - Hip Certification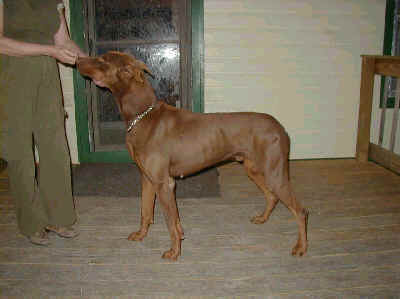 _______________________
Champions in Bloodline:
_______________________

Name: Ch. Sunburgs Really Rugged CD/OFA67E

Name: Ch. Justameres Wicki V Vermilion

Name: Ch. Bikila Jet Setter of Marks-Tey

Name: Ch. Sunburg's Samantha CDX

Name: Ch. Gerent's Eldo Radley Dob Mann

Name: Ch. Pegasus Black Tie Affair UD, TT

Name: Ch. Brykris the Gun Runner

Name: Ch. Sunburg Zrurik Annie Ann CDX, OFA25

Name: Ch. Arco Dob Mann

Name: Ch. Elexa Crystall Class V Fleet'WD

Name: Ch. Tolivar's Boo Radleyh Dob Mann

Name: Ch. Bali-Mor's War-No-More CD/OFA58

Name: Ch. Brirics Mean Joe Green OFA59

Name: Ch. Marks-Tey the Saint OFA51G

Name: Ch. Carousel Ambush of King Hill CDX

Name: Ch. Silent Sentry's Marauder



Copper's Pedigree: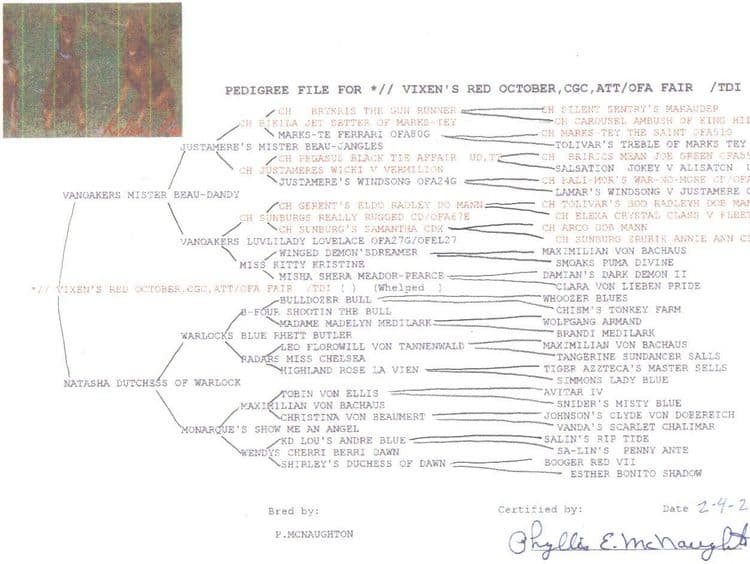 All Content Copyright © 2000-present GarrettsDobermans.com.
All rights reserved.