October 4, 2002 -
"Daphne is such a smart tiger! And, what independance...she thinks she has the solution for every situation. Of course, she's wrong, but it's endearing. Her trick ear is enough to bring on laughs. She looks as if she's part of Spanky & the Gang.
By the way, I don't know if anyone else uses the following symbols, but the little dobie symbol is something I developed. Can't imagine, though, that someone else hasn't beat me to it.
If you look at the symbol 90 degrees counter-clockwise, you'll recognize the ears, eyes and snout of a cyber-dobie."
Jim & Carol :) + :) + =:~ + =:~
August 25, 2002 -
"Dear Laura,
Things are going well. "Daphne", formerly Penny, is answering to her new name. She has gone to the dog park or to the beach everyday. She is getting better at socialization although she barks at the new dogs when they show up at the park. Once they are in the dog area, she is O.K. She will get fixed next week. She has a tendency to try to dominate Coco who at this point is very mellow about it. When we come home from taking them somewhere, we have to let Coco go in the house first because Daphne takes a defensive stance when Coco comes in. Sometimes she growls and lunges at Coco. We are hoping that the trip to the doctor will make her a little less defensive. It really isn't a big problem as we let her know that she should not do that. She will learn.
We finally got her to go down the circular stairs. Jim and I worked patiently for about an hour with treats on the steps and he had a leash gently pulling her as I helped her long back legs go from one step to the next. She hesitated all the next day until she was desperate to be with us downstairs and much to our delight, she appeared. She was so proud and happy. She just pranced around the room like she had just won an Olympic award. It was cute. Now she runs up and down....no problem.
Anyway, that's the update on this smart and cute girl.
Take care,
Carol and Jim"
Daphne with her new family: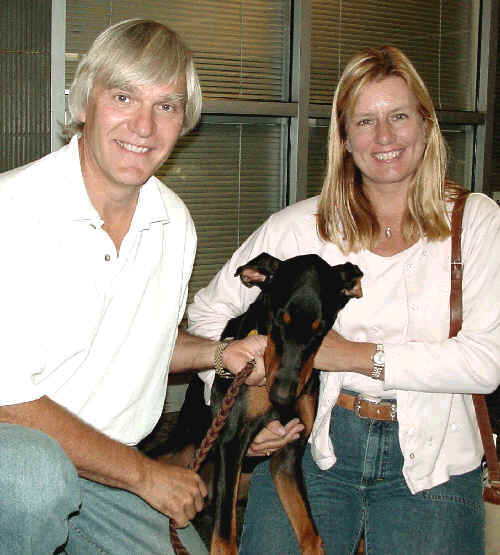 Flew Daphne to Morro Bay, California to be received by Carol King and Jim Kosvanec on August 22, 2002.
August 22, 2002 -
"Here's a few photos, that tell the story fairly well.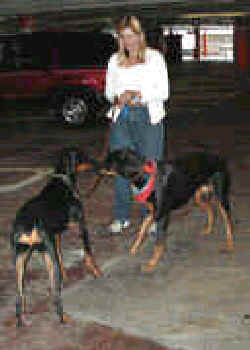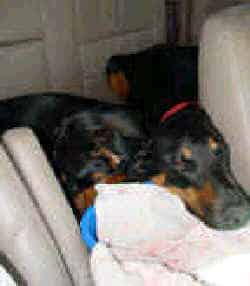 The two girls have been playing for hours.
They should sleep well tonight!"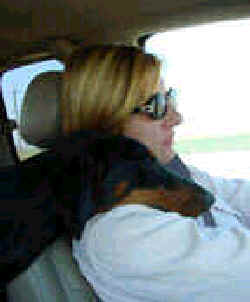 Jim & Carol
Pictures with brother, Marca, who was also returned to us (due to family no longer able to keep). Marcas returned to us August 21, 2002 ...the day before we flew Daphne home to her new family. They were only reunited for about a day...but it was obviously a fun and playful day for them.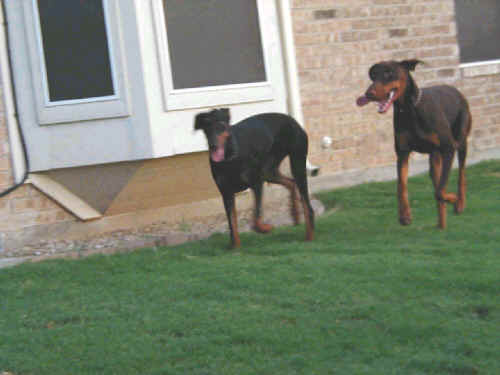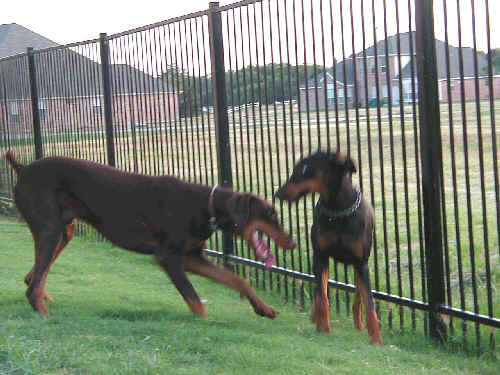 Sold on January 1, 2002. Penny (original name) was returned to us in July 2002 due to family situation.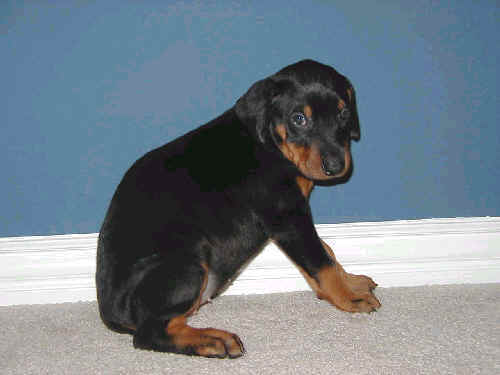 Picture at 5 Weeks old
Click Here to view Daphne's puppy page
Click HERE to see Daphne's Mother
Click HERE to see Daphne's Father