REFERRAL LETTER:
April 30, 2003 --
"Kathy,
I was and remain very happy with the pup I got from Laura last year. After doing some local research in the Arkansas area, I decided to drive all the way to Dallas to get my "Kala".
She weighed 13# when I picked her up and she has peaked at around 75# (ideal size for a female). She has been healthy from the day we got her. We had her ears done and she is a beautiful Dobe.
Kala and I went through a basic obedience class when she was 6-mo old and she did very well. She is an extremely smart dog with all the typical Dobe characteristics, the best of which is her desire to always be by your side (hence the nickname "velcro").
Dealing with Laura was a pleasure, right from the start. We talked about whether I should get a male or female puppy, since we already had a 5-year old Bichon in the household. I then picked my pup from pictures she had, and Laura held the pup for me until I could get to Dallas.
I guess the thing that impressed me most about Laura as a breeder (other than the quality of her dogs) was her website. I could immediately tell that she was a person who loved dogs and wanted you to learn all you could about your new pup. And maintaining a web page for each owner showed me that she really cared for her dogs, even after she sold them. I thoroughly enjoyed reading about and seeing all the other pups from the 2nd litter (I also read about the 1st litter).
Bottom line - I would recommend Laura as a breeder without reservation. Even my local vet said that Kala was a fine specimen of a Doberman."
Regards,
Bill Barry and Kala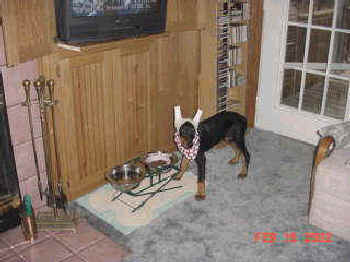 February 2002 - Ears wrapped!
At new home with owner, Bill, who drove from
Arkansas to pick her up and went straight back!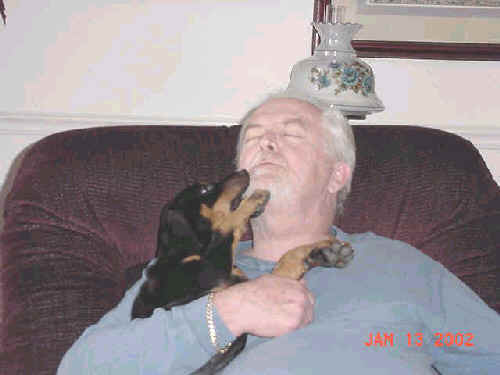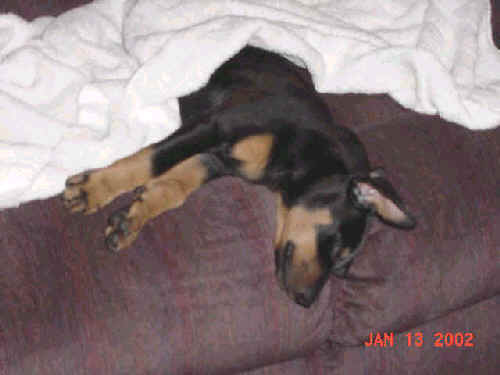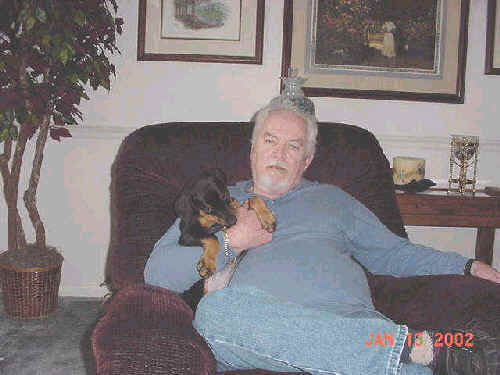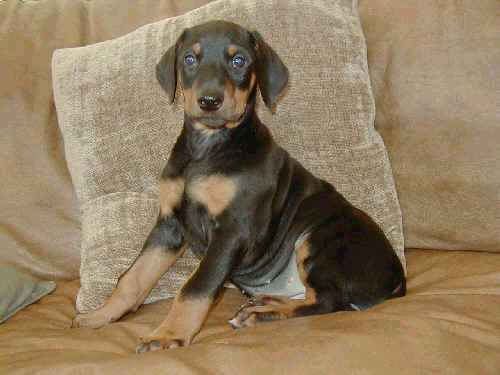 Pictures at 8 weeks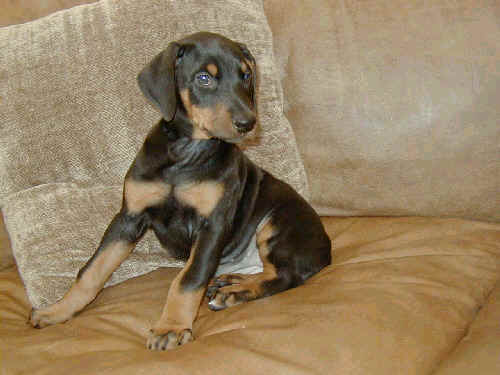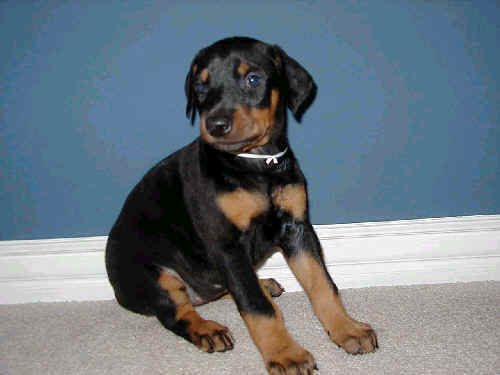 5 weeks old
Click Here to view Kala's puppy page
Click HERE to see Kala's Mother
Click HERE to see Kala's Father