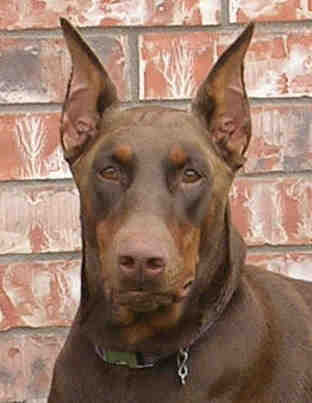 Garretts' Dobermans .com
Welcome to Garretts' Doberman Puppy Site!

Gretchen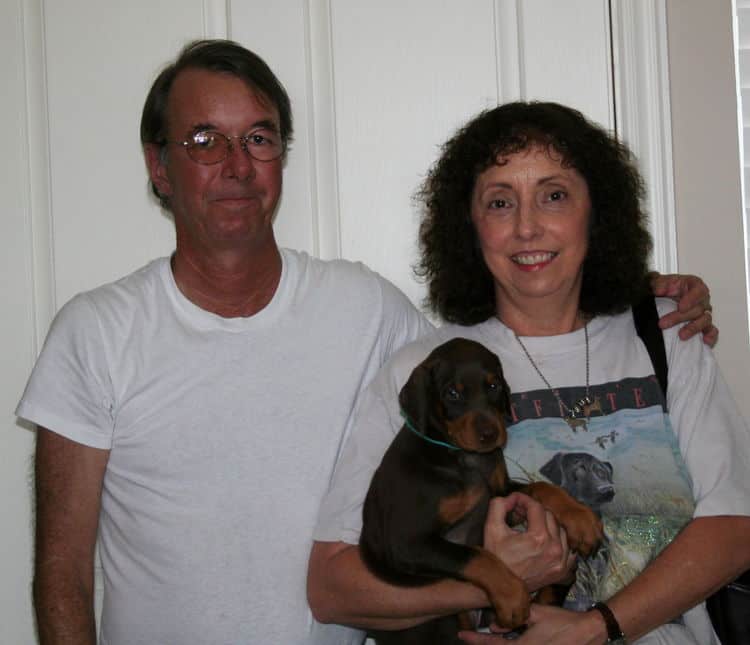 -- August 13, 2006 --
This little girl got to go home today with Jeff and Beth.
They are obedience trainers and Beth will also use her
for therapy work with elderly patients.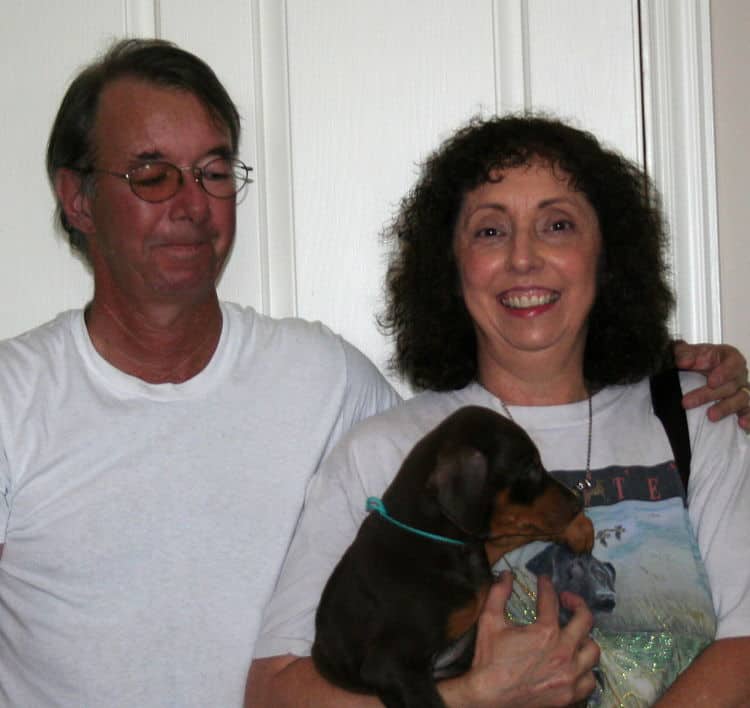 SAFETY TIPS

KEEP YOUR DOG SAFE AND SECURE FOR LIFE

Click on the link below for some valuable tips
to keep your dobe safe, healthy, and happy!
>> Safety Tips Web Link (click Here) <<
(Opens separate window that goes
directly to the Bornmans' Web site.)


August 19, 2006 -
"Laura,
We named our puppy Gretchen and she is doing very well, but is very exhausting. She likes to bite, a lot!, and sometimes drives my other two dogs crazy - but they are learning to handle her.

She is a fast learner - she went to the back door and whined to go out to the restroom for the first time yesterday. At Beth's brother's house, she watched his dog go through their doggy door and immediately followed him without anyone saying a word. And she has learned to climb on the bed - with the help of a headrest pillow next to the bed.

She stays in the crate without fussing - now. She threw a fit when first put in a crate - I might recommend you and your breeders try to crate train the puppies before letting them go. Other than that, she is great and now everything we want in a dog. The vet said she has an elevated white blood cell count but it is not dangerous at this time - she has been to the vet twice for this. Let us know if you need anymore information.
Jeff"

RESPONSE:

"Jeff,

It sounds like things are going well. Pat really spoils her pups! (well socialized!) I do work with my pups to a certain degree with the crate.

I love hearing the updates on Gretchen.
Don't ever hesitate to write!

Laura"
August 7, 2006 -
"We want one of the red pups from Guen's litter. We are looking for an intelligent dog for obedience training, but also a even tempered dog to be around other dogs and people without any problems, and one you could even take into a nursing home (where my wife works) that would be calm and even natured.

Thanks,
Jeff"
---
Find a New Home for Your Dobe
Doberman Rescue Organizations
All Content Copyright © 2000-2010 GarrettsDobermans.com.
All rights reserved.